Peace and Pandemonium
Wednesday, January 28, 2009
Funny Faces
It's been a while since I was tagged with something that I actually wanted to participate in but this was too fun to ignore so I'm doing it.
These are the rules:

1. Go to your documents/pictures
2. Go to your 6th file
3. Go to the 6th picture
4. Blog about it
5. Tag 6 other friends
6. Smile! Here is the 6th pic in my 6th file.
Had this folder held something that I had already posted here I probably wouldn't have followed through but in fact, my sixth file holds all the pictures from my photobooth or as my kids call it,
funny faces
. This is how my kids entertain themselves. Oh who am I kidding, this entertains me too. This is my 6th picture...no kidding!
I cant stop laughing at this!
Because these are so fun, I decided I post a few more pictures from this 6th file for your viewing pleasure. :)
Matias really gets a kick out of this!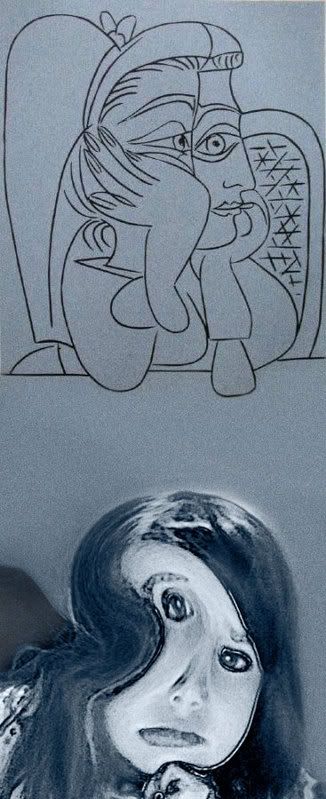 This twisted contemplative picture of Sophia reminded me of this painting by Pablo Picasso. So for fun, I did some editing to my picture to be somewhat comparable.
I love these.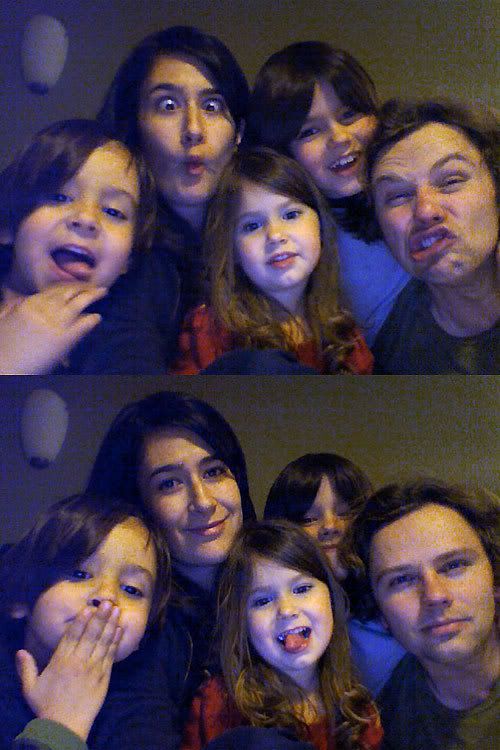 A little family fun a couple nights ago.
Wow! That was FUN! I now tag...YOU!!!
Labels: family
How About Another One??
Tuesday, January 27, 2009
2 Minutes of Pure Hilarity!
Monday, January 26, 2009
Reasons 1-4
So I made the choice to join Flickr as many of you know. I decided that I would give it try and see what I thought for myself. I have to say, I like it so far. I know, it's only been one day but I can see much potential. I still haven't figured out how to use it for posting purposes (among many other things) so for now I am still happily using Photobucket. (If any Flickr users want to share that particular slice of info I would appreciate it.) For now, Im using Flickr mainly for show. : )
The things I like about it...so far.
1. The slideshow. I love how it fades in and out of each picture so nicely. Fun to watch and convenient too.
2. I'm learning how to say hello in so many different languages.
3. Browsing other photostreams is very easy. Almost too easy.
4. The badge. What is a badge you ask? Look over yonder ---> and check out the photo action happening over there. How cool is that? I no longer will feel the need to post EVERY SINGLE PICTURE that I love here. Instead, I'll leave a few surprises for you to discover over there ---> if you choose to.
The things I'm looking forward to...
1. The groups. I cant wait to join some cool ones.
2. The plug ins...I still dont have a clue what those are but I look forward to the day that I find out.
3. More contacts, so please, if you have a Flickr account click
here
and ADD ME! I would really love to check out all of
your
images!!
(And if you dont have one yet, maybe you should get one too. It's kinda fun!)
Greg
Steven's brother Greg came over this afternoon to use the internet. While we were chatting I couldn't help but notice the dramatic lighting streaming through the tiny nearby window. I have been reading up on metering lately and I immediately knew I wanted to use spot metering to enhance the effect this light was creating. (I have officially been made fun of for all the technical talk. Haha!) This is what I came up with...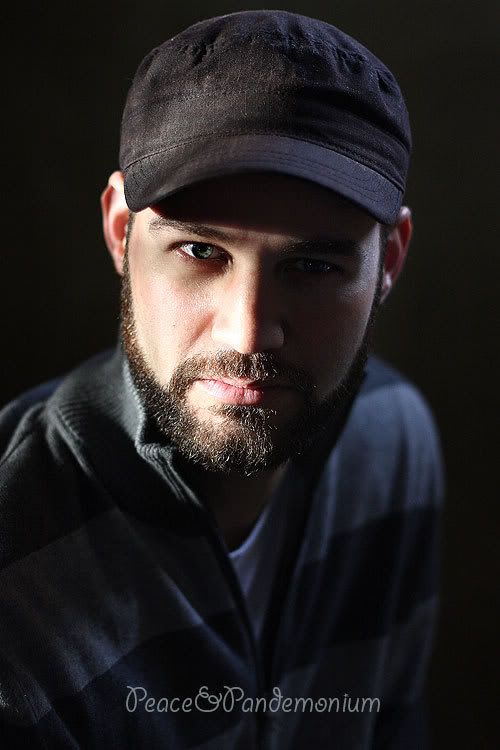 And just in case you were wondering.
Yes, he is single. :)
Labels: portraits
Sunday, January 25, 2009
Embodied By Emily
My dear friend Emily is expecting her 3rd child in April. To celebrate the beauty of pregnancy we went out together for a little one on one photo shoot. I was so excited to get out and use my camera again and so excited to take pictures of this beautiful pregnant woman, that I dragged her out in the
rain
to capture these shots. The rain! What a good sport she is. Emily is one of those lucky women who looks completely amazing pregnant. Need proof? Just see for yourself...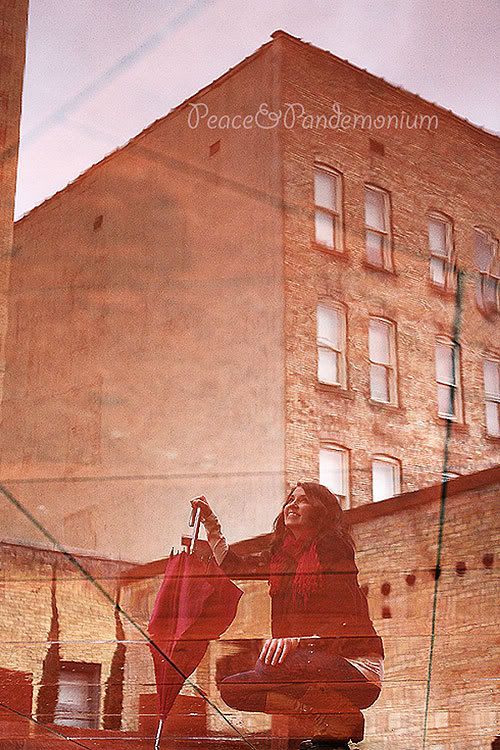 For all of you purists out there who do not believe in Photoshop,
I just wanted to say that with the exception of a slight adjustment in levels and some sharpening,
this shot is SOOC. : )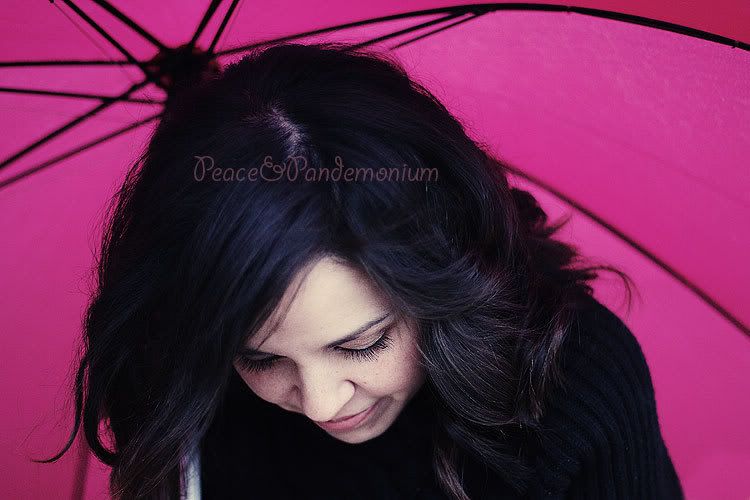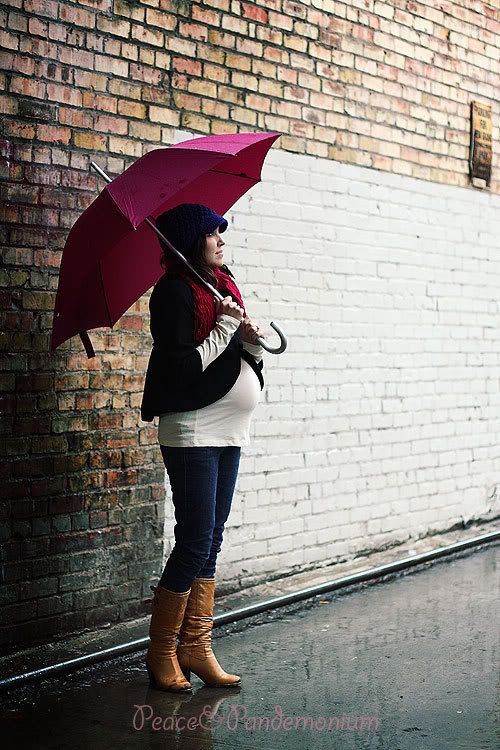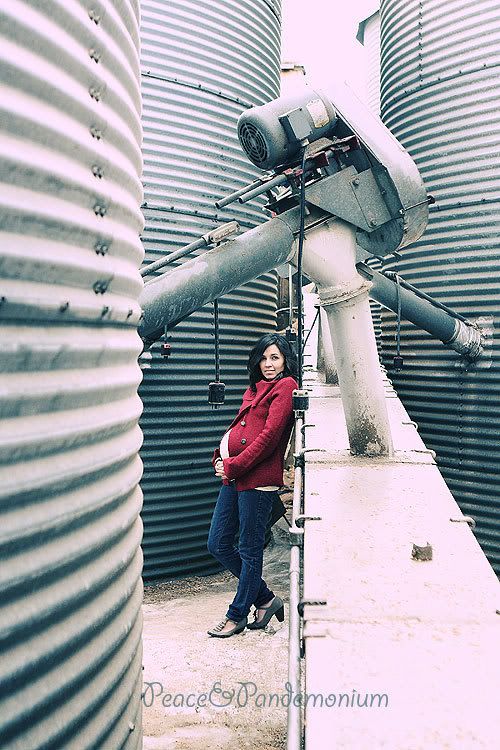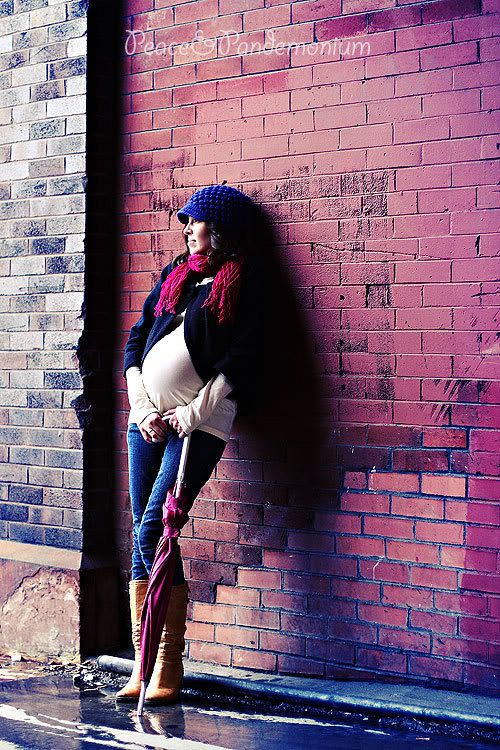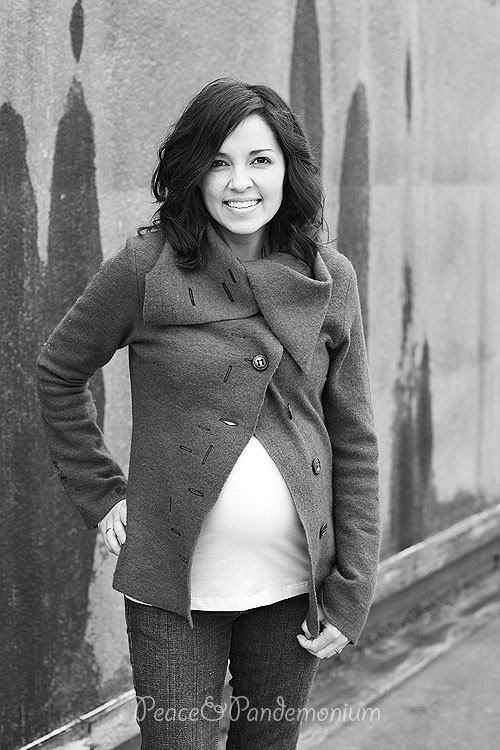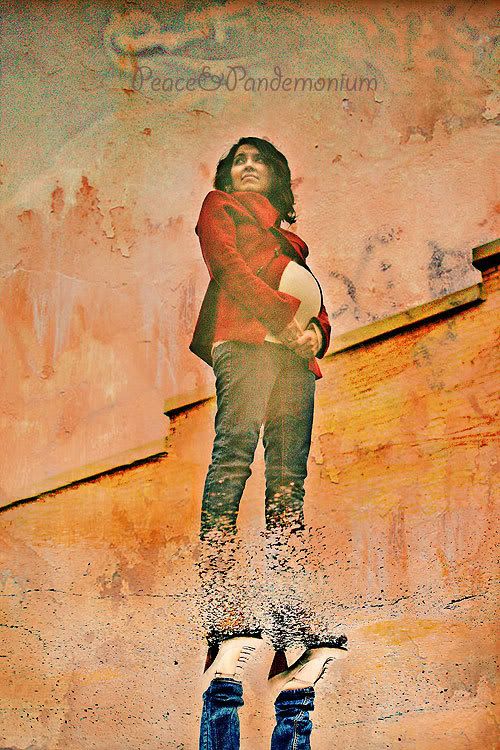 To see more images from this shoot please visit my new Flickr account
here
. And if you have a Flickr account of your own, please add me as a contact. I need friends. :)
Labels: maternity
Thursday, January 22, 2009
Some iPhone Action
Totally not an original idea but I wanted to give this a try anyway.
The verdict?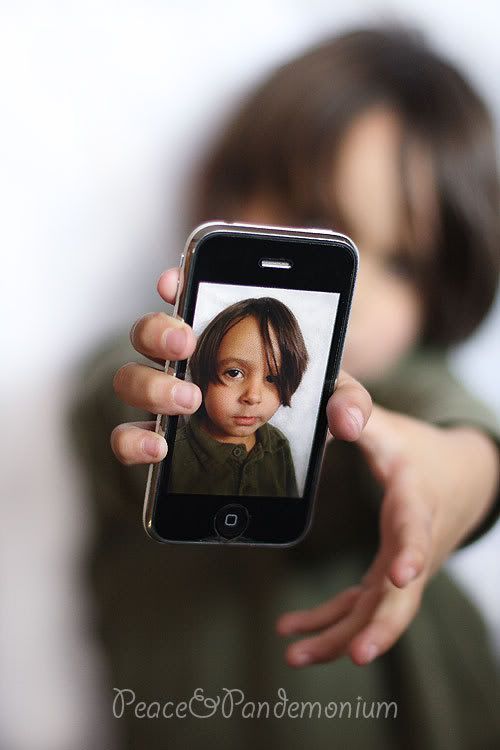 Fun stuff!
Wednesday, January 21, 2009
Miss Sophie
I got my camera back!!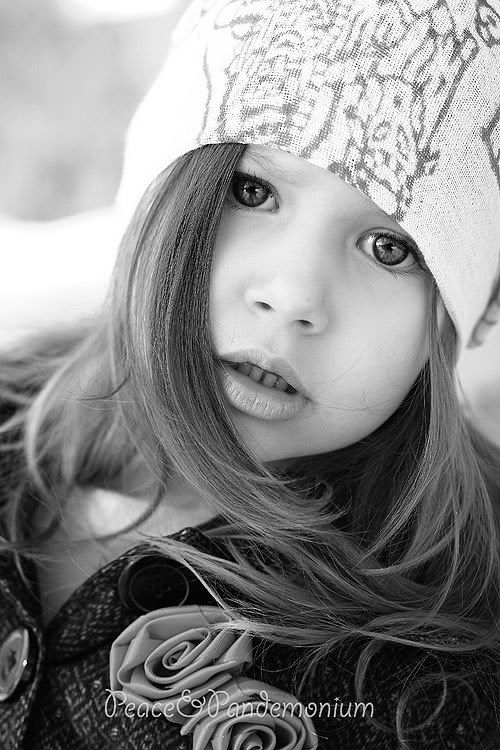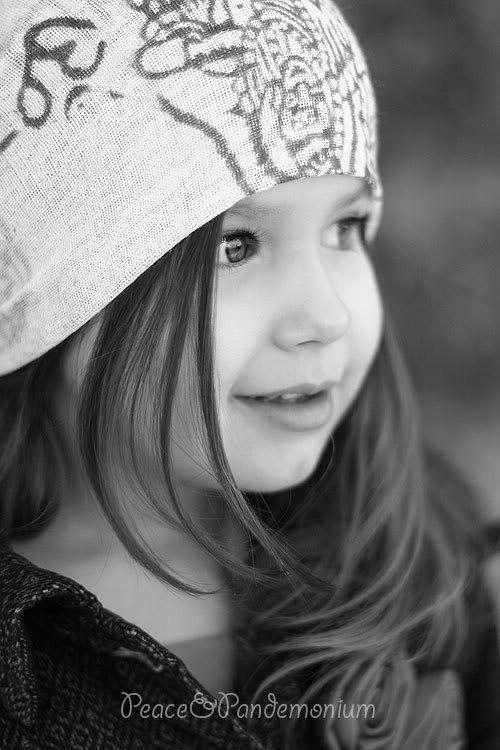 Labels: portraits
Sunday, January 18, 2009
A Sparkling Ice Armor
"Every leaf and twig was this morning covered with

a sparkling ice armor

; even the grasses in exposed fields were hung with innumerable diamond pendants, which jingled merrily when brushed by the foot of the traveler. It was literally the wreck of jewels and the crash of gems....Such is beauty ever-neither here nor there, now nor then-neither in Rome nor in Athens, but wherever there is a soul to admire. If I seek her elsewhere because I do not find her at home, my search will prove a fruitless one." -Henry David Thoreau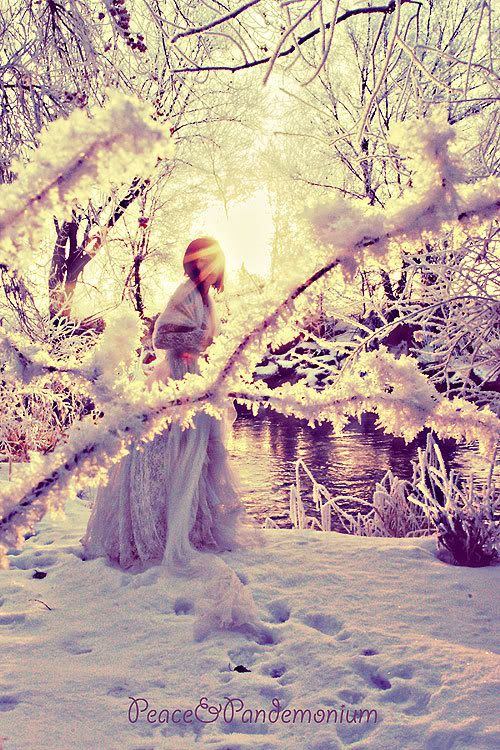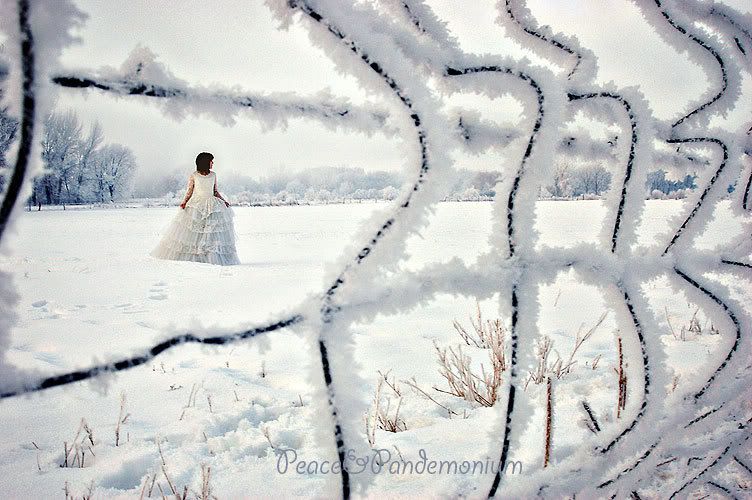 >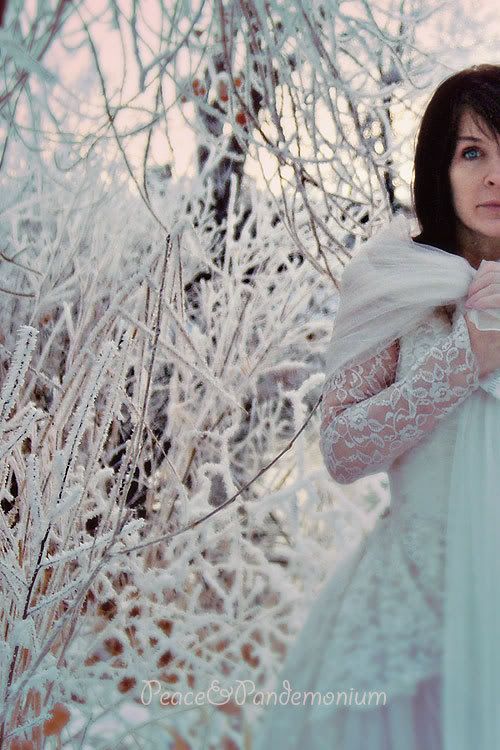 Labels: Claire, family, portraits
Saturday, January 17, 2009
This Morning
The light was gorgeous! These are natural colors. Not photoshop colors.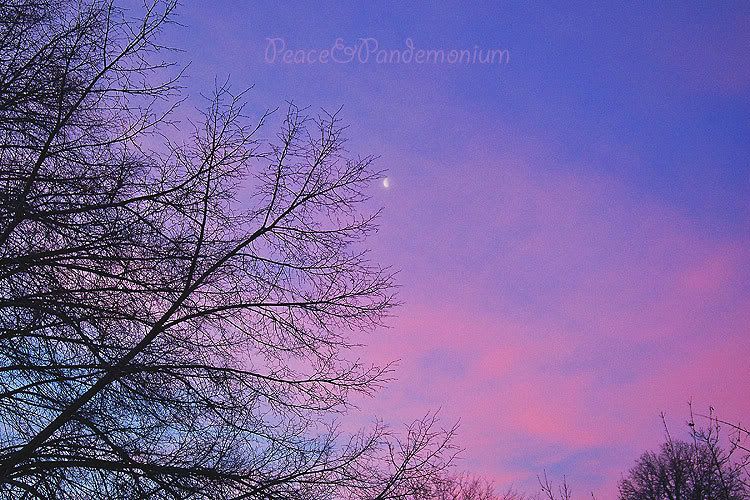 At about 7:30 am.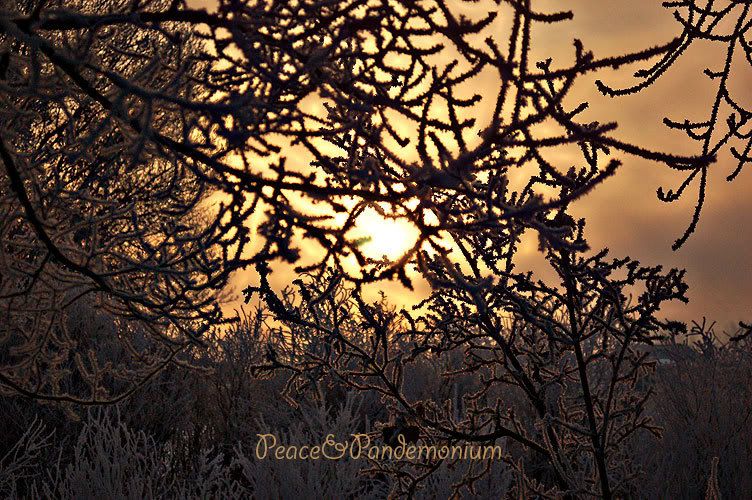 Later on, around 8:30 am.
Labels: personal work
Friday, January 16, 2009
Sophia
Since I had my ISO cranked for these pictures (3200) and because they never had much hope of turning into a "perfect" picture anyway, I decided to play. Bring on the grain.
This little princess is my 3 year old baby. She's growing up so fast, right before my eyes even. It's amazing to watch. Sophia loves having tea parties with her dolls, putting on make-up, dressing up like a princess, and playing polly pockets. She loves playing with Matias, even if it means pretending to be Darth Vader for a while. She is an absolute dream!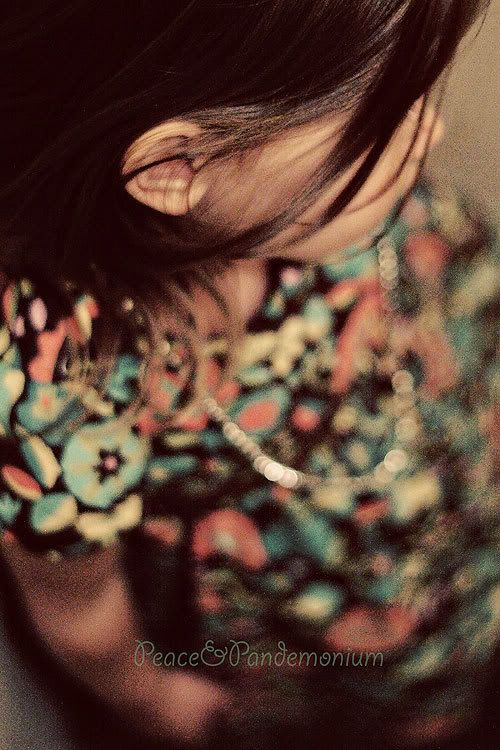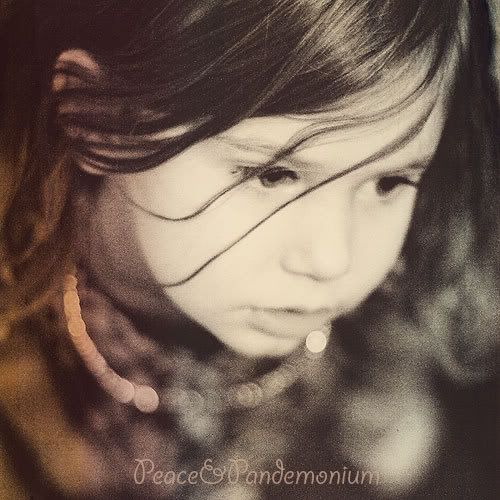 Later, in the bath tub she played with dinos and dreamed of being a mermaid...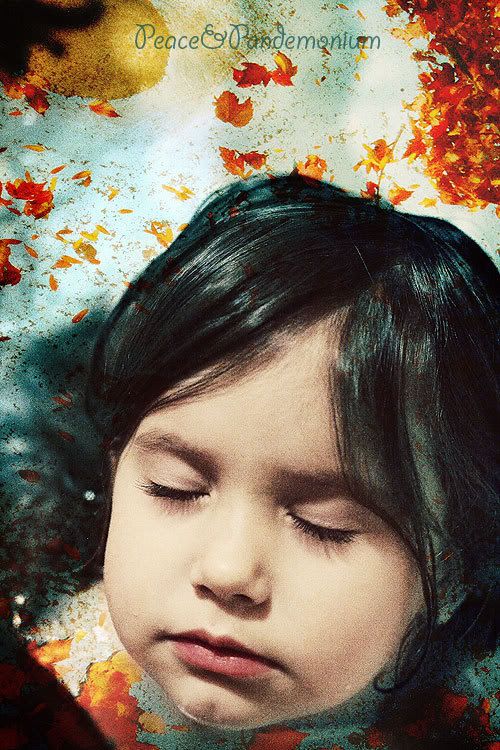 Labels: family, portraits, Sophia
Thursday, January 15, 2009
Matias
Last week I shipped my camera to Canon for cleaning and calibrating. I hate being without it. To keep myself occupied in the mean time I went back through my archives and found some pictures that had been left untouched for 2 months. These were taken in November, in my poorly lit stairwell at ISO 3200 with my 50mm 1.8. (In case you were wondering.)
Matias is my lively 4 year old. This child keeps me on my toes. He loves preschool, playing pretend games with his little sister, candy and coke (I know, terrible!) and any and all video games, especially Star Wars. He is a challenge and a blessing. A wild child and a cuddle bug. Yin and Yang. Dark and Light. You get the idea. Matias is an extra special little boy who reminds me a lot of....well me!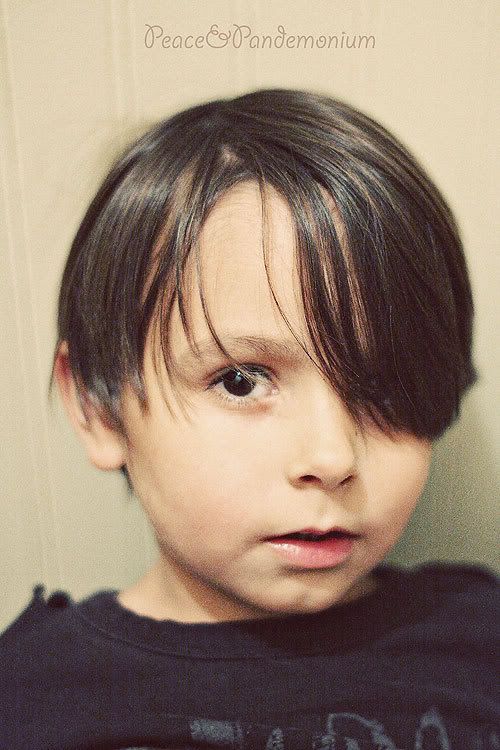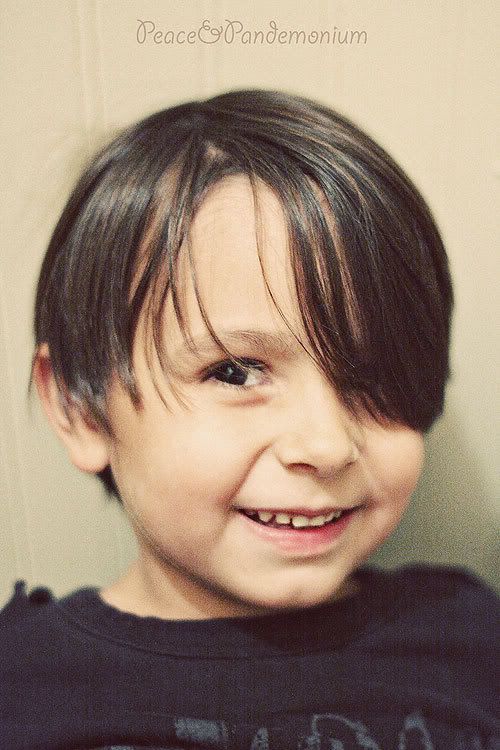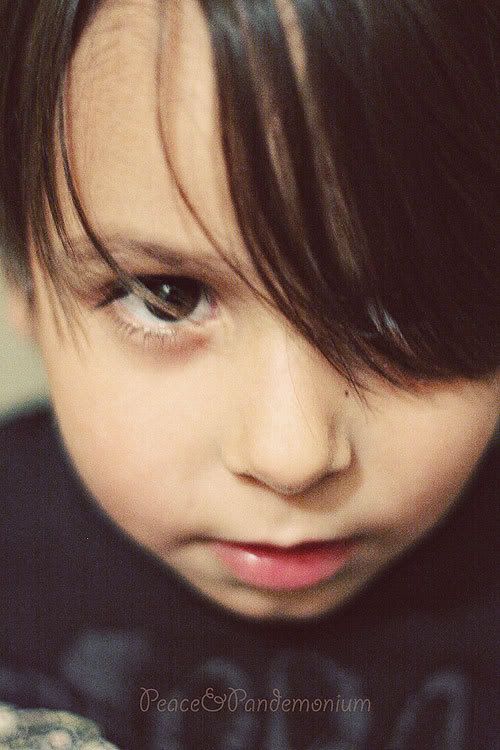 Labels: family, Matias, portraits
Wednesday, January 14, 2009
To Flickr or Not To Flickr
That is the question.
Ok, What
is
the big deal? Do I need one of these accounts? Why? I use Photobucket and it seems to work just fine. What is it about Flickr that makes it so special? Do you use Flickr? Why? In what ways is it amazing? Please share, Im dying to know what all the fuss is about.
Friday, January 9, 2009
Isaiah
In a rare appearance, Isaiah is gracing my blog with his presence. It is like pulling teeth to get this one to pose for me. I would love it if he were more cooperative because he is so handsome and photogenic but alas he resists with every bit of his might. Isaiah is my first born. He loves chess, maps, science experiments, and Mario Kart among a plethora of other interests. He is complete joy to have around.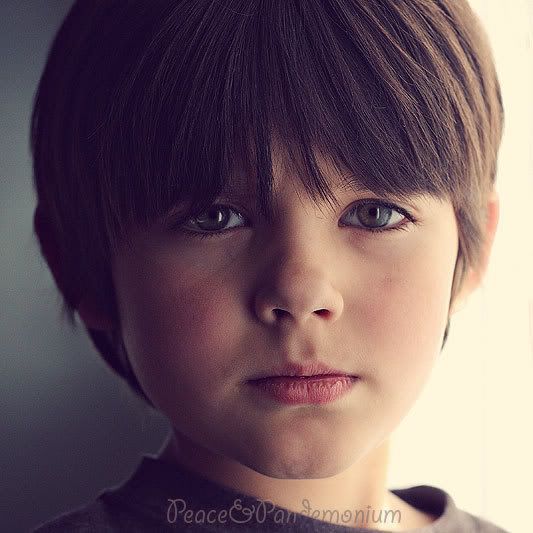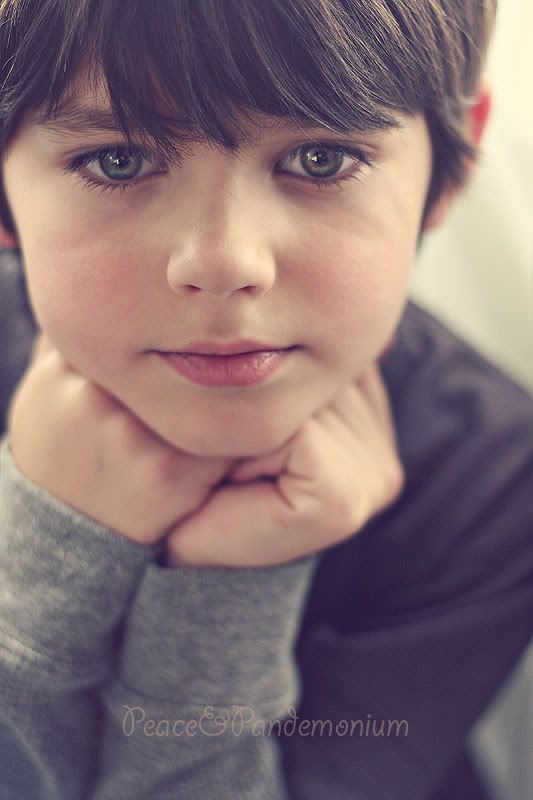 Labels: family, Isaiah, portraits
Thursday, January 8, 2009
Finally Some Clarity!
I recently discovered a fabulous local photographer named
Jessica Kettle
and her photography is incredibly beautiful. She's also a very nice person who is willing to share information which is sometimes hard to find in the photography world. I commented in passing about the clarity of her pictures, how they always look so crisp and clean. She emailed me with the reasons why. She told me exactly what she was doing to ensure that her pictures look great when transfered to the web. This was invaluable information as I never knew the importance (or the massive improvement in quality) that a couple of extra simple steps would make. Thanks Jessica! Deeply deeply appreciated!
To view the difference first hand, please refer back to
this blog post
and see for yourself. If you are curious as to the exact recipe, please email me kehaddock@mac.com. I'm happy to pass on this awesome little tid bit.
From Grey to Cognac: A Metaphor for Life
Since there has been so much snow these past couple of weeks I haven't dared wear my new unprotected suede boots outside. Once I finally put them on my feet I realized they were too big. :(
I took them back to Nordstrom today to exchange them for the smaller size and happened across these boots that
Intyced
me at first sight (thanks in large part to the REDUCED sign). After much thought and an advice seeking phone call to my dear friend who is a shoe connoisseur (and much more fashion forward than myself), I decided to upgrade to these simple classic leather boots in rich cognac. Just saying the word cognac conjures up feelings of luxuriousness. Now I just have to wait 5 to 8 days for them to be delivered to my front door.
I hate wait!
Goodbye Gorgeous Grey Slouchies
Hello Fabulous Opulent Cognacs
Turns out I'm not very original...these two boots are Nordstrom's best selling flat boots. They are probably also the cheapest. Yep, I'm pretty predictable but who cares? I love them!!!
This Man of Mine
Never fails to treat me like a queen.
Randomly surprises me with ice cream because he knows sweet treats make me happy.
Is patient towards me and our children...always!
Tells me he loves me repeatedly throughout the day. Everyday.
Is always asking what he can do for me.
Cooks! For me, it doesn't get any better than that.
He cleans too. : )
Starts the car on a cold morning for me so that when I get in, it'll be warm.
Remembers to take out the trash on garbage day.
Reads bedtime stories to our kids.
Wants the very best for me and our family.
Is responsible, dependable, and works hard to achieve success.
Is generous and willing to give all he has.
Supports me in all of my endeavors.
Encourages me to be pursue the things that bring me joy.
Is gentle and loving.
Is patient and kind.
Rocks me to my core everyday of my life.
Loves me more than he loves himself.
Is my dream come true and I am so thankful for him.
I look forward to everyday of our life together.
My love for him abounds.
Tuesday, January 6, 2009
Rachel and Jenny
***I have gone back and added duplicate pictures that I have sharpened and saved for the web. These are steps I have not ever taken before and only barely realized that I should have been doing all along. Once again, trial and error. I left the originals up just so that we can all see the difference***
The final installment.
And in the sweetness of friendship let there be laughter, and sharing of pleasures.
For in the dew of little things the heart finds its morning and is refreshed.
~Kahlil Gibran
BEFORE
AFTER. Ok, WORLDS BETTER!!
BEFORE
AFTER. Again, Insanely better!!
BEFORE
AFTER. Maybe slightly too sharp? But still, better.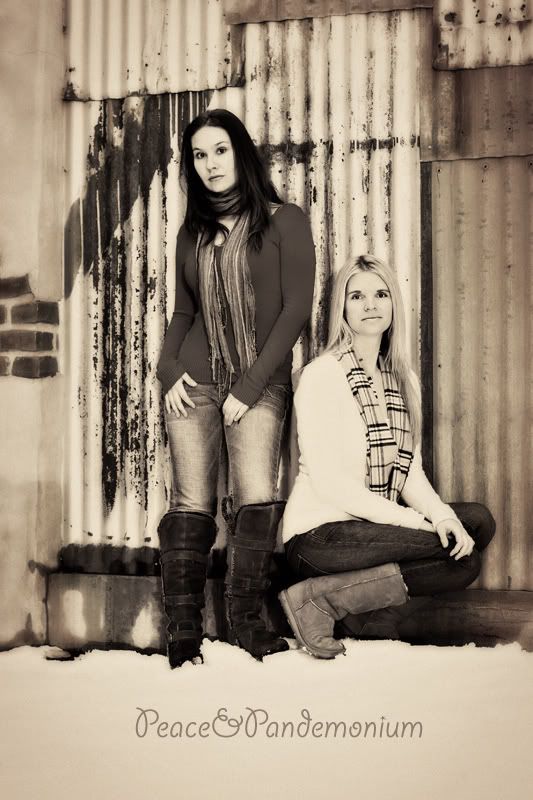 BEFORE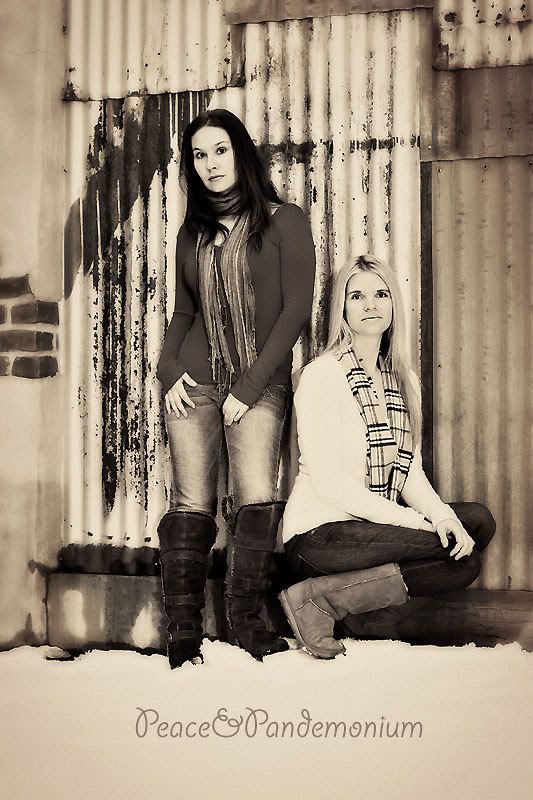 AFTER. Ok, I have to say, I like the softer version better. Good to know. This is not something to be applied across the board. See, I'm learning!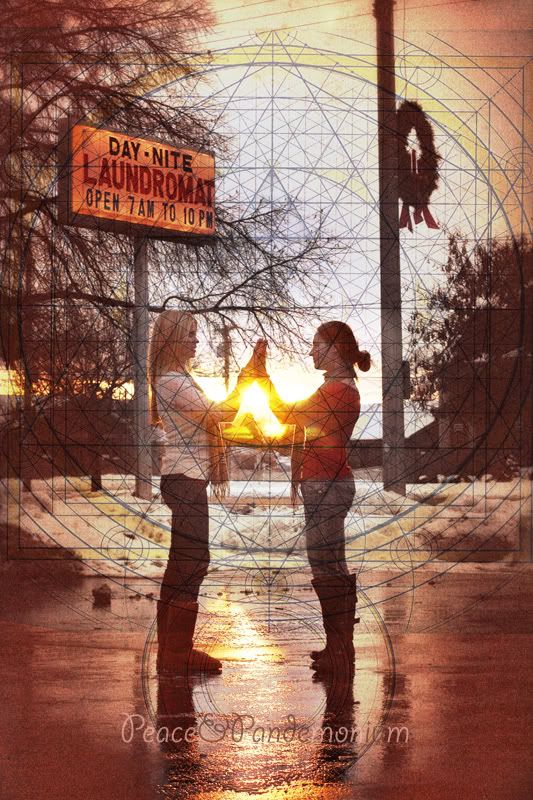 BEFORE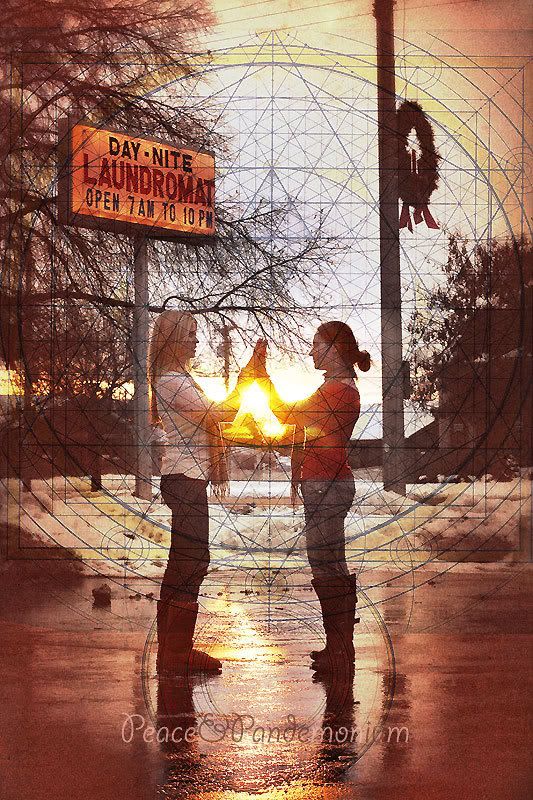 AFTER. I love how the images are clearer and less 'reddy'. Skin looks

so

much better. On an artsy picture like this though, Im not sure de-saturating the red was necessary but still, I love the clarity!
***So apparently these small extra steps make a HUGE difference. If only I had known before. Now the pictures I post here actually look like they look to me in photoshop when Im editing. Amazing. From now on, my pictures should look much, much better. Well, at least now I have no excuse. Oh happy day!!***
Archives
December 2007 January 2008 February 2008 March 2008 April 2008 May 2008 June 2008 July 2008 August 2008 September 2008 October 2008 November 2008 December 2008 January 2009 February 2009 March 2009 April 2009 May 2009 June 2009 July 2009 August 2009 September 2009 October 2009 November 2009 December 2009 January 2010 February 2010 March 2010 April 2010 May 2010 June 2010 July 2010 August 2010 September 2010 October 2010 November 2010 December 2010 January 2011 February 2011 March 2011 April 2011 May 2011 June 2011 July 2011 August 2011 September 2011 October 2011 November 2011 December 2011 January 2012 February 2012
Subscribe to Posts [Atom]