October is my favorite month. I love it! All I ever want to do is go on walks outside. Let my kids (an myself) play and crunch in the leaves, and soak in this beautiful but brief season. Autumn truly makes me happy. When I was a kid, October was even more exciting because of my birthday. Nowadays I'm less enthused about that particular aspect of the month but this year was a big one for me. When Steven turned thirty I would tease him that he was over the hill. This year he got me. Let me explain.
To celebrate my birthday this year Steven took me to SLC for a fancy dinner (that we ended up not doing but that's a whole different story) and I thought that was all. I had absolutely NO expectations. My best friend Rachel lives in SLC. We had talked on the phone and decided that we would swing by her house before going home to say hi and eat treats or something. I didn't suspect ANYTHING and I can't over emphasize that. On the way over I sent her a text saying that we probably wouldn't stay very long. I hadn't been feeling my best that night and I had visualized myself crawling into bed by 11 and going to sleep. Little did I know that a big surprise was in store for me. Steven had planned my very first surprise party. That sneaky guy!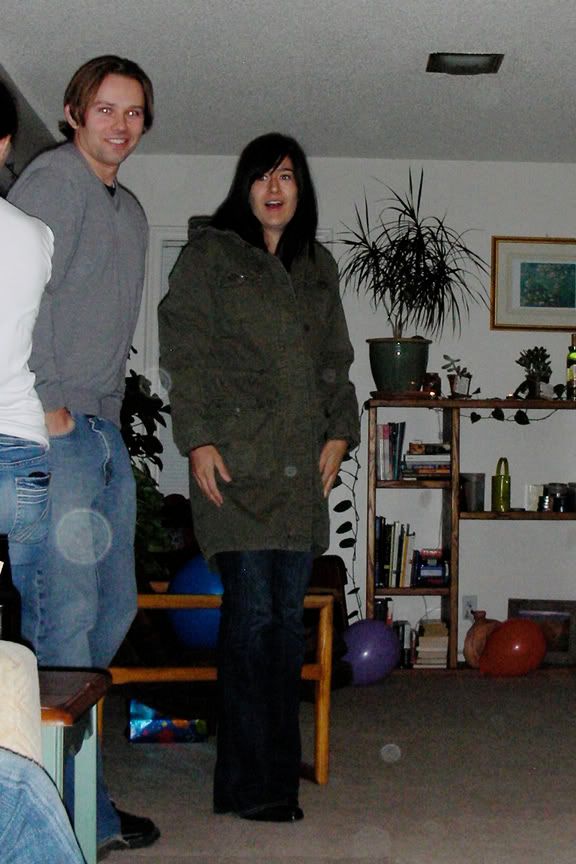 We walked in and this is the look of shock and awe as I realized we weren't alone...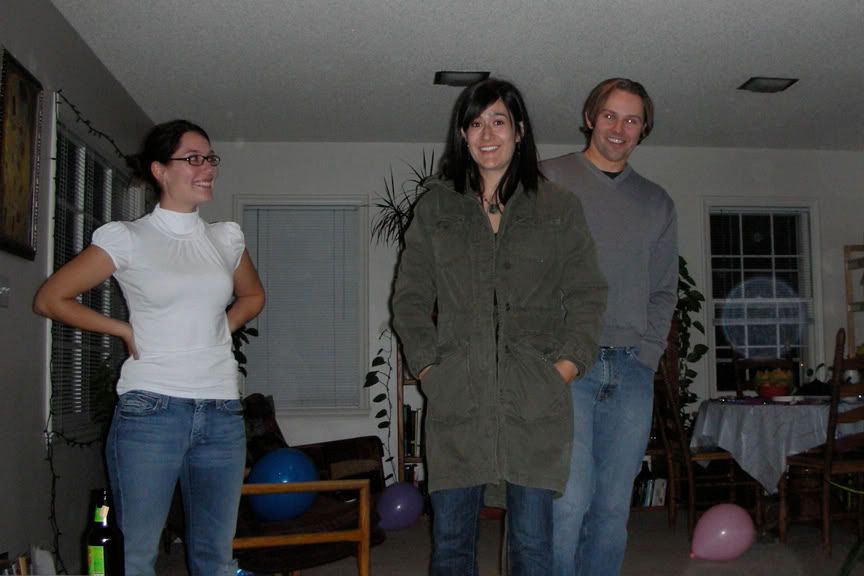 Realization had set in at this point but I was still so unbelievably surprised...and happy! Steven's expression cracks me up. He is really enjoying this!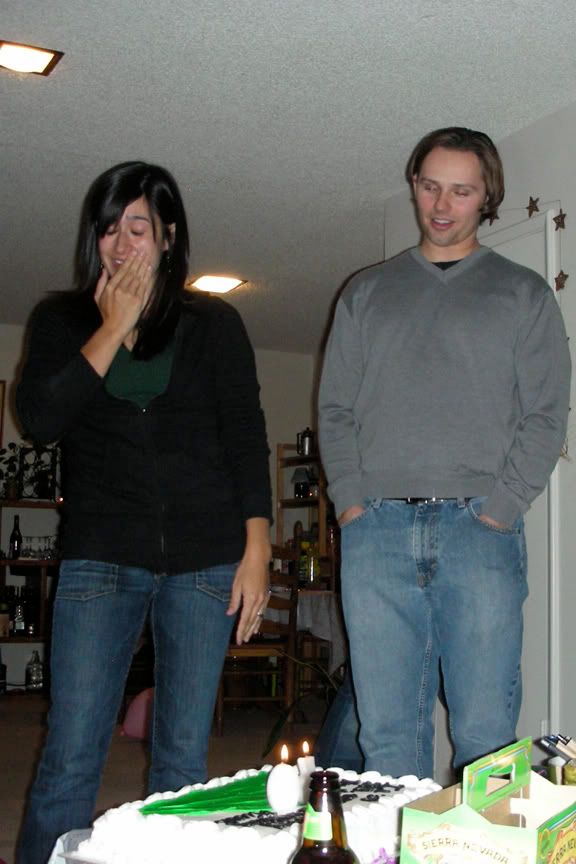 Oh look out, the water works are kicking in.
I was so surprised,

completely floored would describe it better

, that I couldn't help but cry!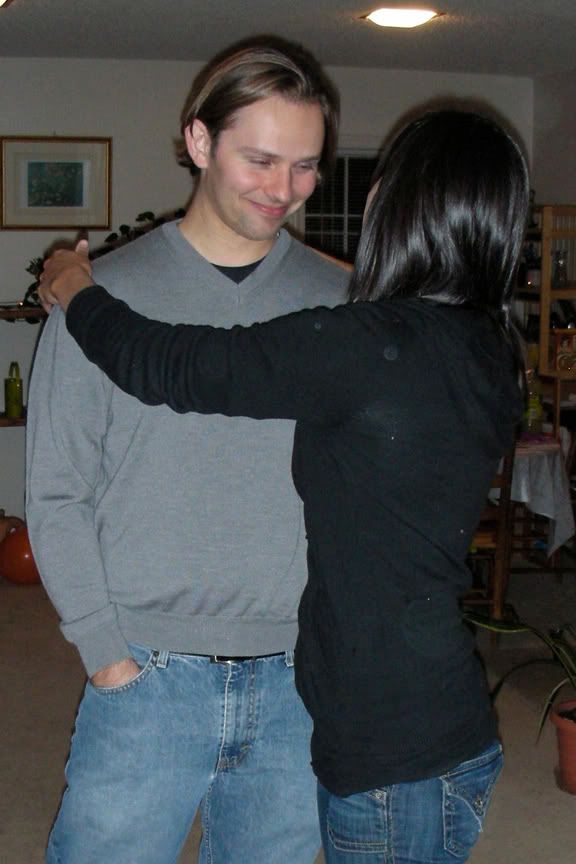 Steven knows he just pulled off a huge surprise. His weeks of planning definitely paid off. He deserved a hug!
Here is where Stevens humor comes out. I love the sarcasm behind his question..."Is 30 still over the hill?" the answer of course is NOT ANYMORE! : )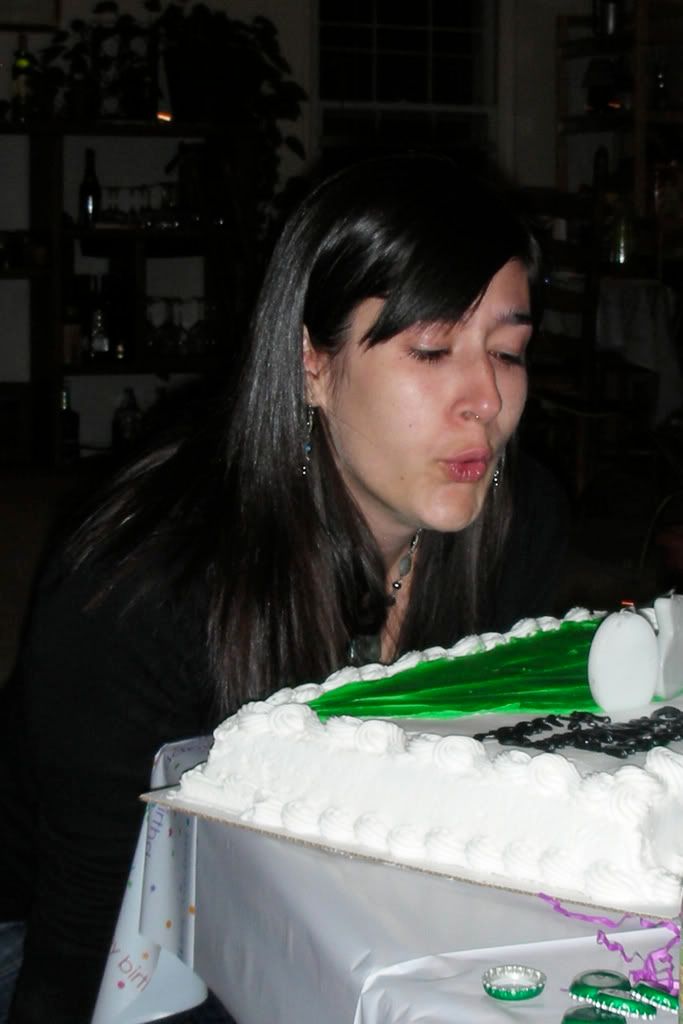 Blowing out my candles! And crying a little still.
And now, the party goers...
This is Rachel, the lovely hostess and my best friend since 8th grade. Love her!
Steven and I, my sis Ashley, Claire, other sis Tavia, and brother Skyler.
Who is Claire you ask? The anonymous woman in the middle. ; )
Johnny and Alexis. Skyler and I.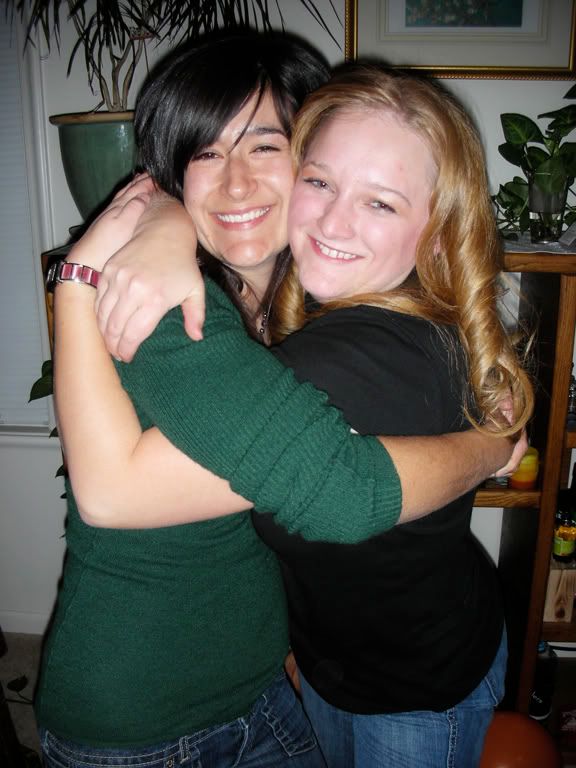 Me and Alyssa.
When we pulled up to Rachel's house I, of course, was still completely in the dark about a party or gathering of any kind. I saw Alyssa's car and recognized it but still did not put two and two together. That shows how totally clueless I really was.
This is a very enthusiastic hug but she drove all the way from Spanish Fork to be there, she deserved it!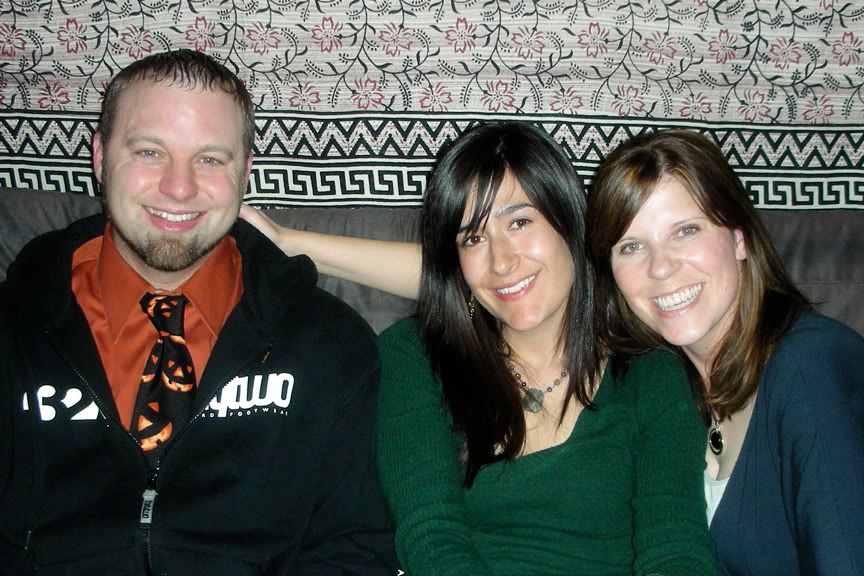 The Cagels, Mark and Jessica.
Steven and Mark worked together at PF Changs. Mark still has the pleasure of working there and his wife Jessica is one of my favorite people!
Michelle and me.
I mentioned earlier that she gave me Cullen lounge pants for my birthday. They are amazing! Yes, Cullen as in Edward Cullen and they are now my favorite pants to

run with a vampire

in!
The Unofficial Bradbury's. Joseph and Ashley.
This is what she always does when she gets in front of the camera. Maybe its a disease. : )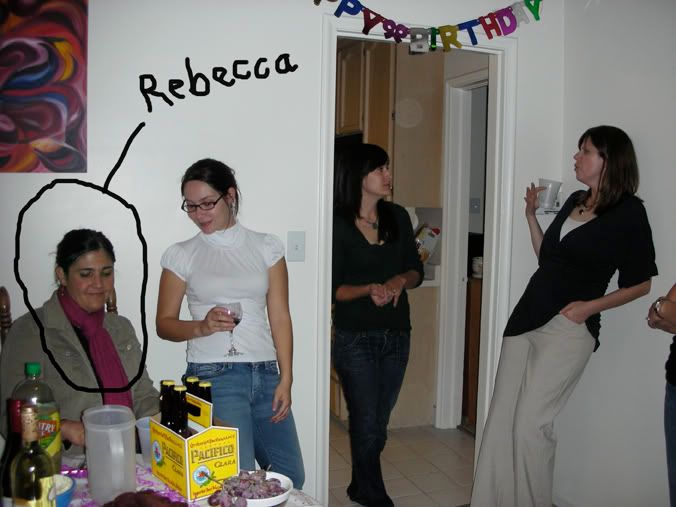 For some reason I didn't get a picture with Rebecca. Maybe because there were two cameras going around and our picture was taken on the other camera. At least I hope so. Until then, this is her. She would kill me if she knew I had posted this picture but she's traveling in Italy with her mom right now so I don't feel even a little bit bad about it!
As soon as I thought all of the surprises had been revealed I was hit with yet another one. Steven gave me a Nintendo Wii along with the Wii Fit for my birthday. Wii had so much fun playing the wii that wii played it into the wii hours of the night, literally. : )
I have a funny movie that I'm going to post but I have to figure out how to do it first. Watch for it soon!
I have never had a surprise party before and I have to say I really enjoyed it! Thanks to all of those who went out of their way to help me celebrate. Now I need to start thinking of a way to get Steven back!!!
***I need to mention the person who was pivotal in this night even happening for me. That person is Greg, Steven's brother. He watched the kids at home so that we could go out and party! Thanks so much Greg! He even cleaned my house while we were gone. What a great baby sitter!!!***