Peace and Pandemonium
Wednesday, April 30, 2008
So Long, Farewell.
This past weekend we attended a BBQ that was organized by the employees of PF Chang's. We all ate yummy food together, and played ongoing games of football and frisbee. I gathered the "Chang Bangers" together for one last group shot, after which Steven was subjected to many jokes and impersonations at
the roast
held in his honor. The staff presented him with a generous gift (a valuable gift card to Lowe's for the purchase of a BBQ grill) and Steven was overwhelmed with emotion. I almost thought he might cry but he held it together. He was touched by the appreciation showed to him and even though I know he's excited to move on, I also know that he will greatly miss the employees and friends that he has had the opportunity to work with for so many years. Thank you PF Chang's for 8 successful years. We wont ever forget...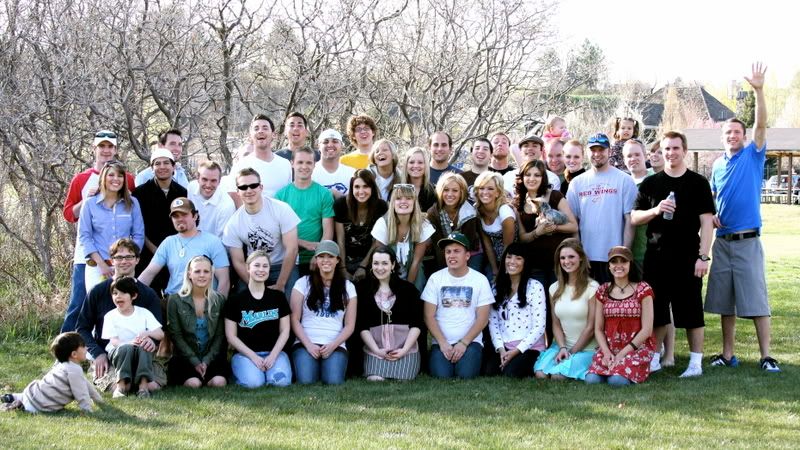 As you can imagine, the kids thoroughly enjoyed a day in the park
eating
...
and
drinking
,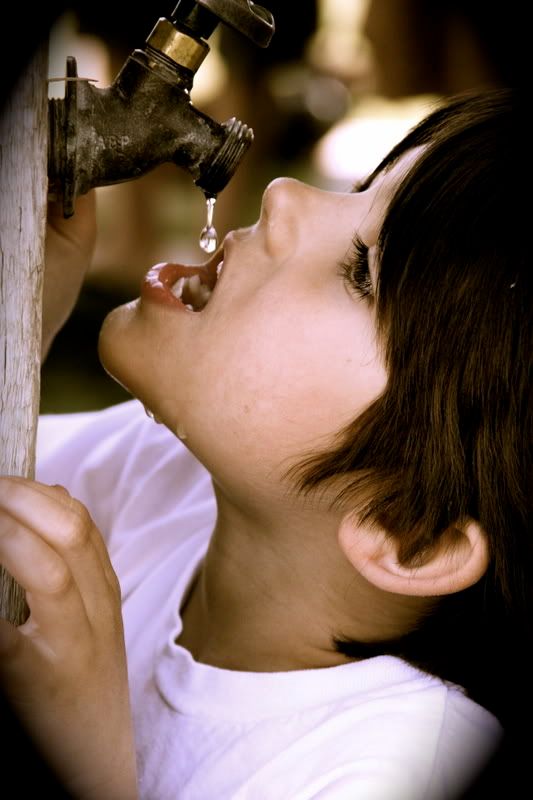 and
playing in the sand
.
Sunday, April 27, 2008
Two Years Ago Today
Friday, April 25, 2008
My Lil' Shark Tackler
Today was the 1st grade career day. Isaiah had to write three clues to help his classmates guess what career he wants to pursue when he grows up. His clues were:
I study fish.
I live by the beach.
I help fish and other sea creatures be safe.
What am I?
In addition to revealing three clues, he had to bring props to help illustrate his desired profession. This was Isaiah's visual interpretation...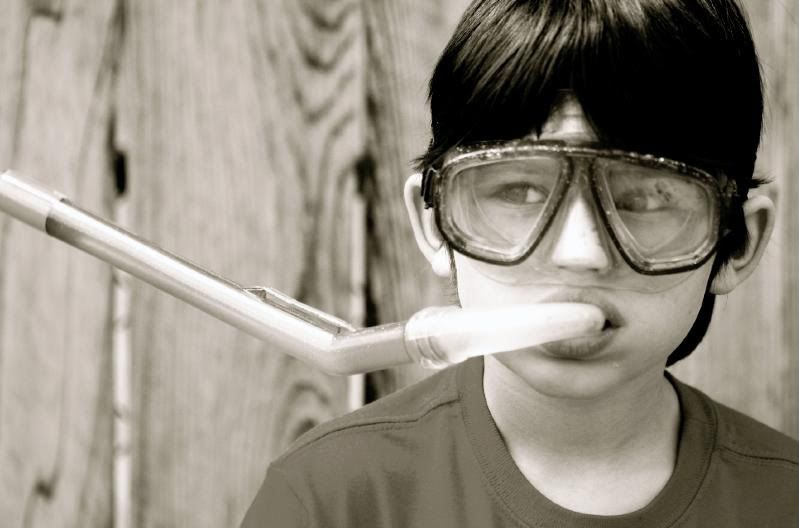 Can you guess what he wants to be when he grows up? I'll narrow it down for you. These were some of the guesses he received, all great, but all wrong.
A snorkler. (which makes sense)
A scuba diver.
A swimmer.
A shark tackler.
Thursday, April 24, 2008
April Showers
Just about the time that Sophia finished putting together her snazzy ensemble, it started to snow! Perfect timing...
***I'm trying out a new way of uploading pictures and I've made them a little bit smaller in hopes of helping my page to load faster. Will you let me know if it's making any difference?***
Dandelions
Tuesday, April 22, 2008
Chloe and Brookie
These sweet sisters are my friend Elisha's daughters. Oh how I love these girls.
And these dirty feet are to die for!
Gone Astray
I had an eye opening experience on Sunday. Isaiah had left to go on a walk with our neighbors the Kemp's a half hour earlier and Sophia really wanted to go. She came into our room and asked for us to take her for a walk. We were both relaxing and told her that we weren't going to go on a walk right then but that she could play upstairs or in our yard. Her reply was the sweetest "Oh, ok". She happily walked out of our room and headed upstairs.

About 10 minutes later Liz dropped Isaiah off and invited us over to their house for treats. I told her we would come right over, I just had to get everyone rounded up first. I started looking around for Sophia and realized she wasn't in the house. I walked outside and checked our front yard, the neighbors backyards, our car, our backyard, and still no sign of her. I went back inside to recheck the house. Upon realizing she really wasn't there, I started to panic. I told Steven she was lost and we both got up to really start looking. Thankfully I had the Kemp's and the Trask's right outside my house willing to help and once I verified that she wasn't in our house, everyone dispersed into different directions. Elisha walked around the block and I started pounding on our neighbors doors. She wasn't any where to be found.

Panic! Heart pounding out of my chest! Dark fear!

I ran home and called the police. I hadn't seen much of Sophia that day, I had meetings, was busy working and visiting friends. It hurt me because I didn't know what she was wearing. How could I not know what she was wearing?! I described her the best I could. I couldn't really think straight. Still no sign of her.

Eventually the cops showed up. Two cars from either direction. Right about that time I could see our friend Adam in the distance. He was blurry and I couldn't tell if he had my baby or not. The cop said that the man down there had a little girl and wondered if I knew him. I said "Yes I know him but I don't know if that's my baby" He had his daughter with him and he was still too far away for me to recognize my little Sophie. The cop radioed down to the other cop and it was confirmed, Adam had found her.

Relief! Pure relief. Thanks and praises. I slumped under the weight of the concern I had just been consumed by. I started to cry.

I held my Sophia as tightly as I could without hurting her. I just whispered to her, "I love you, I love you, don't ever leave me, I need you."

30 minutes after she left my room to go for a walk she was back in my arms. The craziest part is this. For any of you who know my neighborhood, Adam found her at CENTER STREET! Center Street! That means that she crossed a very busy road, and wandered five blocks away in the process. I wish I had taken her on the walk that she so badly wanted to go on. I'm grateful for the second chance and for the learning experience. I never would have dreamed that my baby girl would have been so bold as to wander so far from home by herself. Now I know. I will be watching her like a hawk. I still shudder when I ponder what happened, and worse, what could have happened. I try not to, but I guess the fear serves to keep me alert and aware.
Mom's, watch your babies closely.


Thank you to everyone who helped us search for Sophia. Especially Adam, you saved the day, and my life. I am deeply grateful for your sensitive mind and heart. I have the best neighbors and friends. I am so very blessed. I love you all.

Monday, April 21, 2008
It came!!
A day early and I'm ecstatic.
Macro 100mm f/2.8, I heart you!

My Little Wanderer
My Dark Angel
Mr. Smartypants
Sunday, April 20, 2008
The Smith Family
Yesterday I had the privilege of taking portraits of my very dear friend and her beautiful family. I have known
Emily
since we were five years old. We were best friends in elementary school and though we went our separate ways for many years I'm so thankful that we have reconnected are are still friends today. After the photo shoot I was on a high...I knew we had captured some very special moments. These are a few...
Nostalgia
I came across this picture of me and Emily (as seen in the previous post) taken many, many years ago. It just goes to show how long we've been friends. I cant remember how old we are...I just know it was taken on Halloween and we were both babies. Ahhh, the good ol' days.
Friday, April 18, 2008
Picnic in the Park
The weather has been so hit and miss lately, but today it was a hit so Alyssa, Liz & Parker and I, all took our kids to the park for a picnic. We also managed to round 'em all up for an impromptu group shot.
(Okay, okay it wasn't what most would call impromptu. We worked really hard to get these kids to cooperate with the pose we put them in. Thankfully, Ella was suspended overhead and she managed to keep everyones attention. Well almost...Sophia!)
Thursday, April 17, 2008
Tulip Festival
For a month now I have been anxiously awaiting the Tulip Festival at Thanksgiving Point. There were supposed to be 90,000 bulbs in full bloom, all varieties, gorgeous colors. They were supposedly "stealing Hollands' thunder". Ummmmm, no. Not so much. I pretty much took a picture of every tulip in bloom in this place and have posted them here so that you don't have to waste 10 bucks on a very small handful of flowers.
The flowers that were open were so beautiful. I think in a couple of weeks it would be worth a trip back because there were thousands of tulips waiting to bloom. I guess this is what happens when winter just doesn't stop and it snows in April. Humpf!
Wednesday, April 16, 2008
The Wonderful Race
Here's the second installment in the Coyote and Burro series.
Coyote and Burro and the Wonderful Race
By Isaiah Haddock
One day Coyote and Burro were in a race. They were not the only ones there. Hare was there and Panther was too. The rattlesnake twins were too.
Ready, Set, Go!
They all ran at the same time. Coyote ran and ran. He ran until he crossed the finish line. When he crossed the finish line, everyone cheered for Coyote. Coyote felt proud for himself.
The End
Tuesday, April 15, 2008
Kisses
Archives
December 2007 January 2008 February 2008 March 2008 April 2008 May 2008 June 2008 July 2008 August 2008 September 2008 October 2008 November 2008 December 2008 January 2009 February 2009 March 2009 April 2009 May 2009 June 2009 July 2009 August 2009 September 2009 October 2009 November 2009 December 2009 January 2010 February 2010 March 2010 April 2010 May 2010 June 2010 July 2010 August 2010 September 2010 October 2010 November 2010 December 2010 January 2011 February 2011 March 2011 April 2011 May 2011 June 2011 July 2011 August 2011 September 2011 October 2011 November 2011 December 2011 January 2012 February 2012
Subscribe to Posts [Atom]