Peace and Pandemonium
Monday, June 30, 2008
The Dress
Here's an equation for you...
AMAZING vintage wedding dress + angsty photographer + gorgeous willing model = Magic!
I was at
DI
Friday with my mom looking for a costume for a totally different shoot when we came across this incredible little gem. It was marked 50 bucks which would have been a great deal but we asked if they would mark down the price and they did! At DI! We ended up getting it for $25. Total steal!! The images and ideas immediately started pouring in and so I called my friend Kristina and the rest is (like I said before) magic...
***This is a
concept
photo shoot. The idea is that this beautiful bride is awaiting her groom. In the beginning she is happy and excited. As the pictures progress, she displays her changing cascade of emotions when he doesn't show up. Worry, Anger, Sadness, and ultimately Freedom. (Hence the make-up and the way she is expressing herself.)***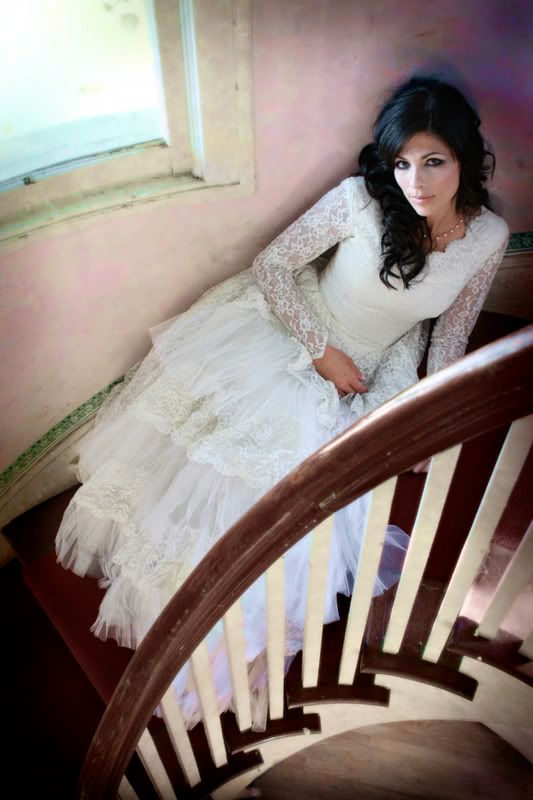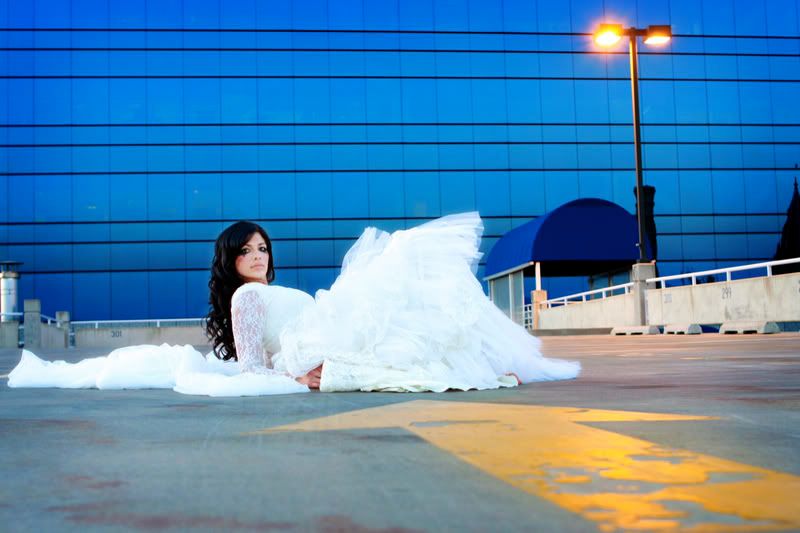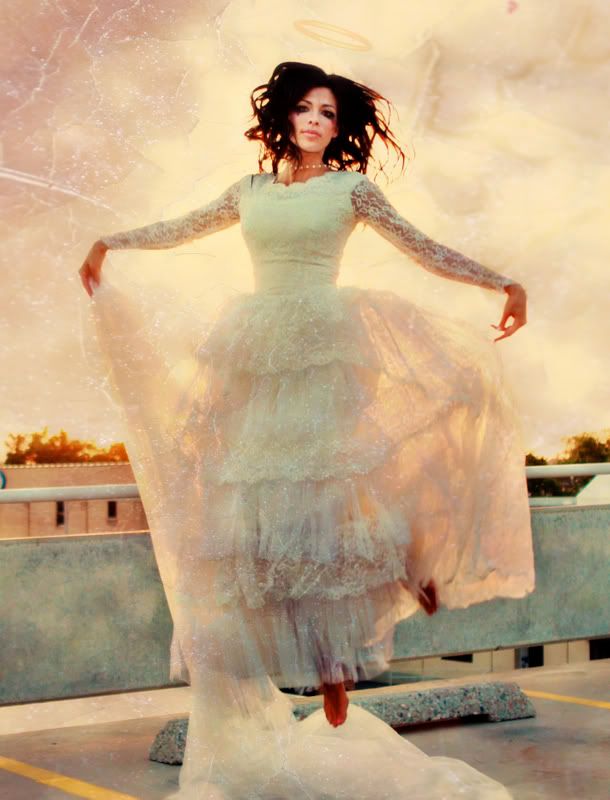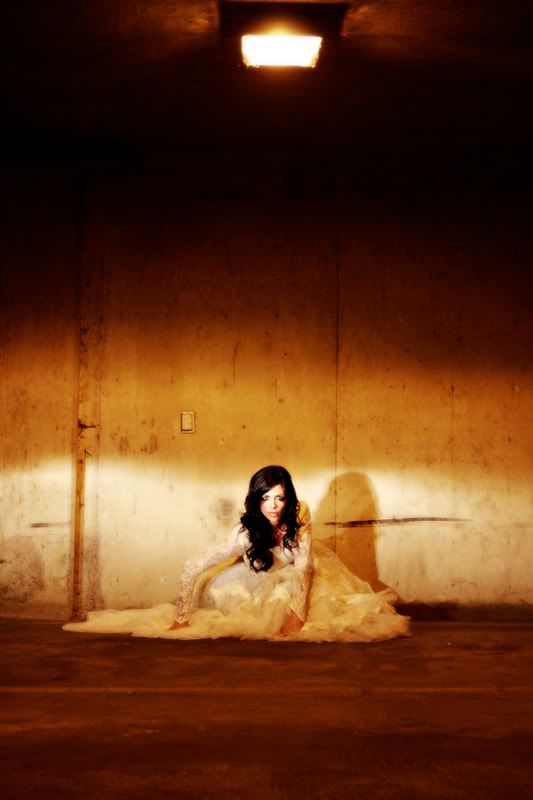 Saturday, June 28, 2008
Some Clarity
I read my horoscope in the Salt Lake City Weekly the other day. It spoke to me.
Libra
How well are you capitalizing on this years unique opportunities, Libra? Now that we're halfway through 2008, let's take an inventory. I'm hoping that six months from now, you'll look back and make the following declaration:
"
It's so funny that in order to find out where I truly belong, I had to change my ideas about where I truly belong.
Feeling at home on this planet and in this life wasn't possible until I got cured of my delusions about what it would be like to be at home on this planet and in this life. I had to lose some of my certainties in order to gain more security."
I'm still digesting this but, WOW! That's what I needed to hear.
Friday, June 27, 2008
A Butterfly Rainforest
Day three of our vacation was spent in museums. I was completely blown away with how cool this place was. A screened in "rainforest" habitat, filled to the brim with butterflies of every kind. Hundreds, maybe thousands of butterflies fluttered around this lush indoor setting to the point where they were landing on our arms, our heads, everywhere. It was like a dream.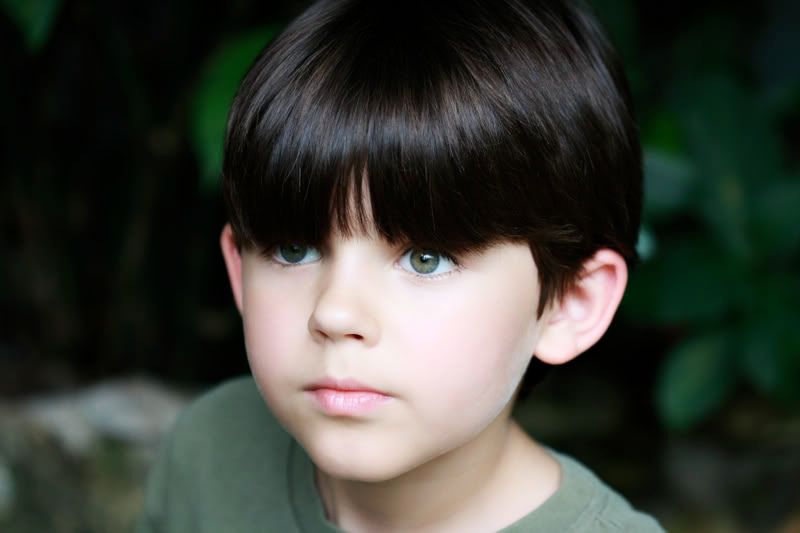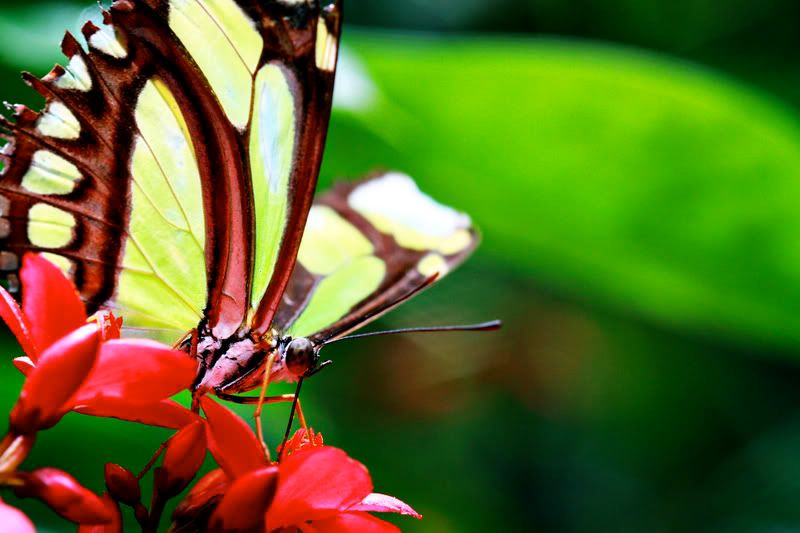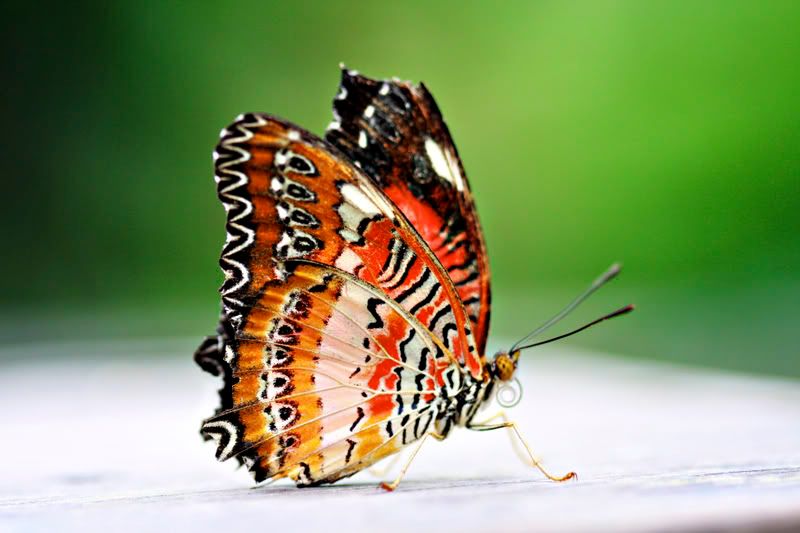 Thursday, June 26, 2008
Father's Day
Sunday was the first official day of our 2008 Haddock Family Reunion. After church we gathered at Gramps and GG's house for a special Fathers Day dinner. While the finishing touches were being put on the meal, the kids played outside. Isaiah and his cousin Kailey discovered a dragonfly that was trapped in the screen porch. They were fascinated by it and frankly, so was I.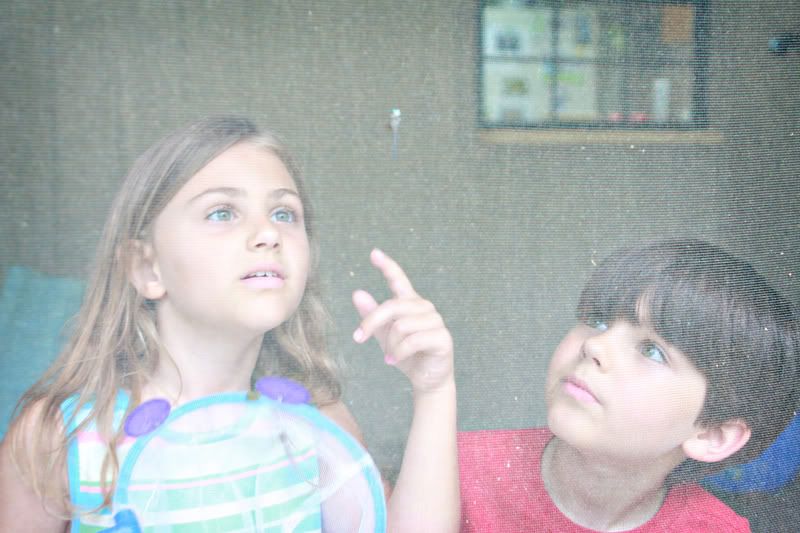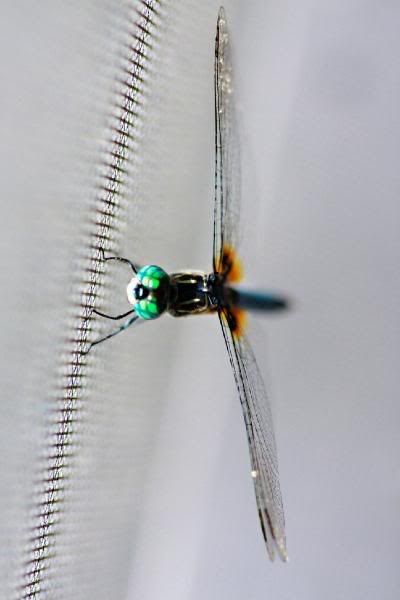 Matias started a catch phrase at dinner that caught on like wildfire. He usually says random things like most little boys do. I warned Angela that her kids might end up saying things after we left that they may not have ever said otherwise. My prediction became reality when Matias blurted out at dinner, "Take off your head and put it in the garbage." Why, you ask? I have no idea but the kids thought it was hilarious. They were laughing and repeating it, and the next thing we knew, it became the most oft repeated phrase during our whole trip. Even the adults were saying it. I felt that it spoke to me particularly because for some reason (I think because I wasn't drinking enough water), I got a pounding headache every evening. I felt that Matias' words echoed my thoughts exactly.
After an incredibly delicious meal, we went to
Lake Alice
on the University of Florida campus. After scanning the water for a long time with turtles as the only wild life in sight, we finally caught a glimpse of this little guy. He came right up to us and just sat suspended in the water while we all oohed and ahhhed over him. I got bored before the others and wandered off much to my dismay because as soon as I left he apparently ate a fish that was swimming in the water next to him. Man, I would've liked to have seen that.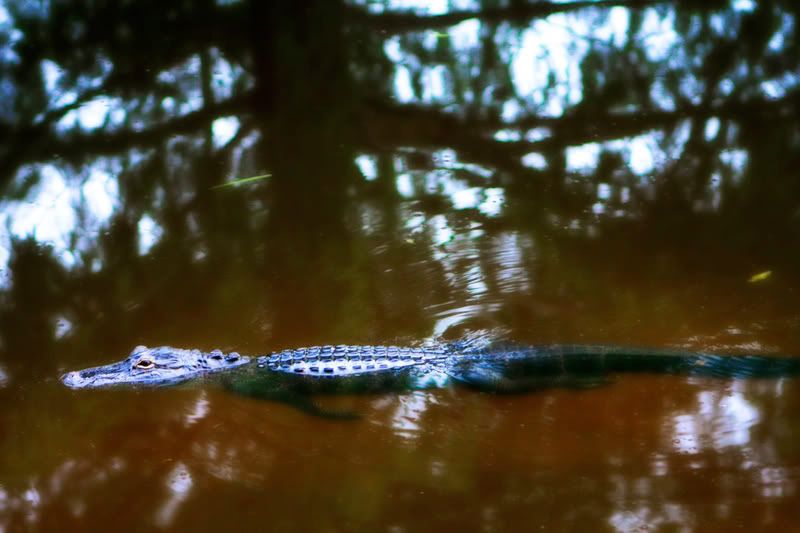 Before dusk we walked across the street and patiently waited to see the bats leave their bat house. We waited for a long time but minutes before dusk it started to rain. We decided to leave early in favor of not getting soaked. We went back the following night and we're able to see the bats leave their house. It was underwhelming. I've seen it before where it was a crazy flurry of activity all at once but on this night they kind of trickled out and it wasn't all that exciting. Oh well, whatcha gonna do?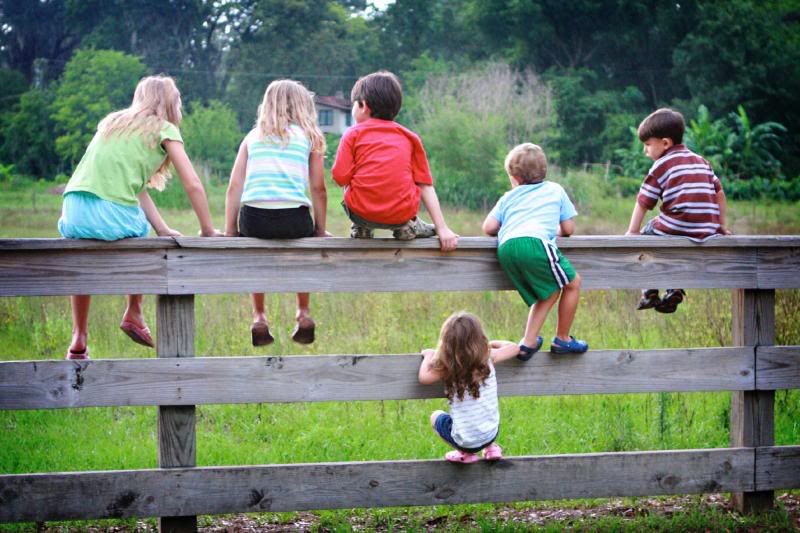 My kids were so happy to be spending time with their cousins. These are the kids of Steven's oldest brother Jim and his wife Angela. Danielle is their oldest, she's 9. Kailey is a couple of months older than Isaiah. She just turned 7 in May. Cameron is 3 days
younger
than Matias (and a good 3 inches taller). Evan is the youngest but not even close to the smallest. This kid is tank and that is an understatement. He isn't even 2 yet but he towers over Sophia and gave Matias a run for his money. My kids adore their cousins and we all wish that we lived closer so that we could play all the time.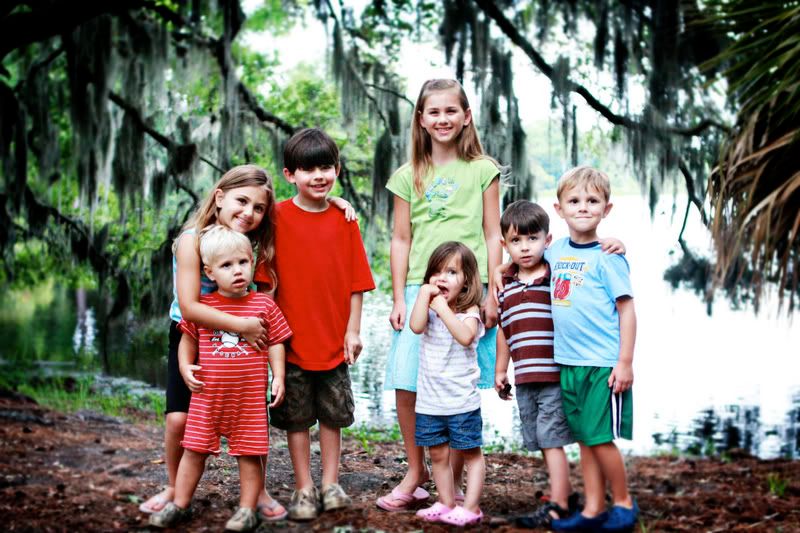 Since I didn't get the chance on the actual day to wish my hubby a public Happy Father's day I'm going to take my opportunity now. I am so grateful to have Steven as my husband and the father of our children. He is and has always been such an amazing dad. Its a gift that he delights in. He adores our kids and knows how very blessed we both are to have each one of them in our lives. He is kind and patient, far more than I am, and willing to do whatever it takes to make our babies feel special. He does the same for me and always manages to make me feel loved and protected and safe. I love this man with all my heart and I feel honored to be his wife. I love you Steven. You make my world go 'round.
4 out of the 5 Haddock men pictured here from left to right...Jim, Greg, Ed and Steven.
***On a side note, I'm changing the size of the horizontal pictures because on some of your computer screens these images are being cut off. Double click to see the full size if you'd like to. : )***
Tuesday, June 24, 2008
Day One
Saturday morning bright and early (to us, because of the time difference), we woke up, got ready, and slipped out of the house
sans kids
, and headed for St Augustine. Steven's mom and dad graciously offered to watch our kiddies so that we could spend the day together, just the two of us. It was pure heaven.
We arranged to meet our friends Kim and Jon for lunch. We told them we wanted to go to a place with ambiance, and they took us to the
Conch House
. The booths are outside in elevated tiki huts over looking the marina. It was the perfect setting for catching up with friends.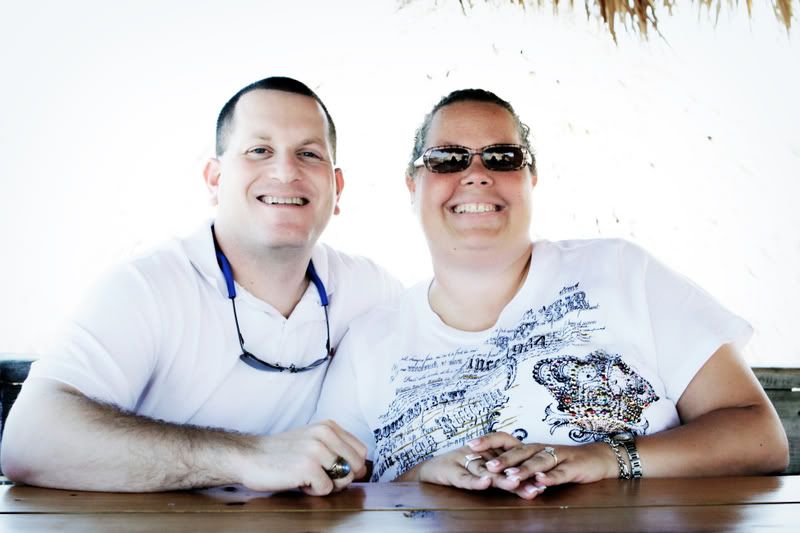 After lunch we headed straight for the beach. This is where we spent the rest of the day in total relaxation. I read my vacation book,
Eat, Pray, Love

by Elizabeth Gilbert
, which by the way, is sooooo good. I highly recommend this book to anyone looking for a meaningful, funny, and inspirational book to read. One minute I was laughing out loud and the next I had tears streaming. I love books like that. I have yet to finish it but I'm close and I'm looking forward to the next time I have some time to sit and enjoy it some more.
Along with reading, and catching some rays, I snapped some self portraits. Steven was asleep and I didn't have any kids to take pictures of so I took matters into my own hands. I recently got the lens I have been craving for some time now. The 24-70 2.8 and I wanted to give it a whirl. Simply stated, I love it.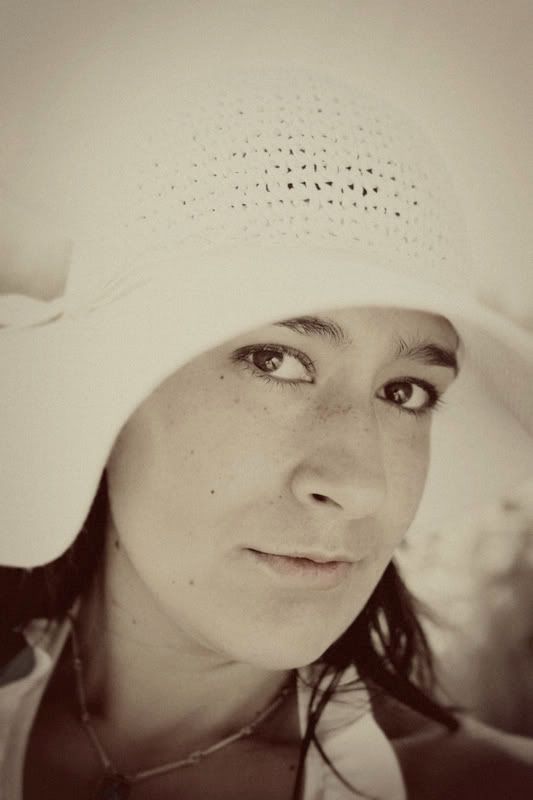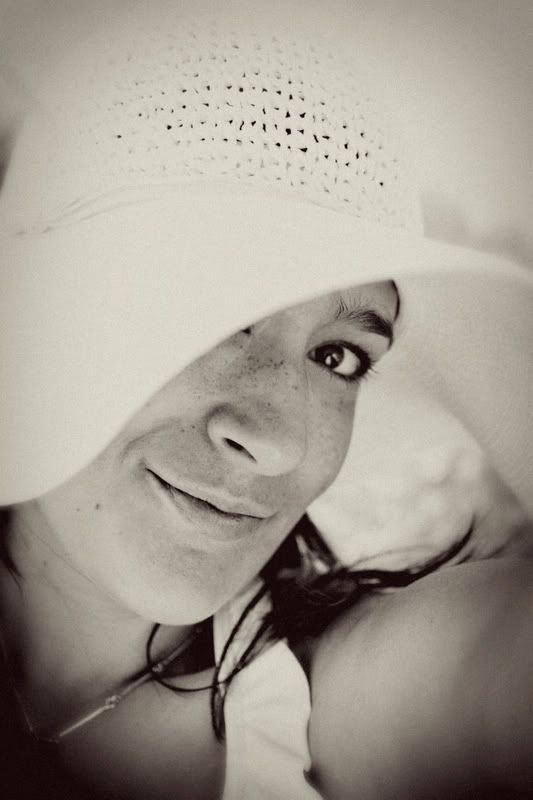 We swam in the ocean for hours. The Atlantic is so different from the Pacific in so many wonderful ways. Taking nothing away from the Pacific which I also love, but the Atlantic is perfect for leisurely swimming. It's warm, gentle waves transport me into bliss....ok, maybe I'm being overly poetic here, but I'm not exaggerating one bit. Pure bliss......
What a lovely way to start our vacation.
Monday, June 23, 2008
I'm Back...with a List
My five favorite things about Florida...
1. Spanish moss. Hands down, the best moss ever.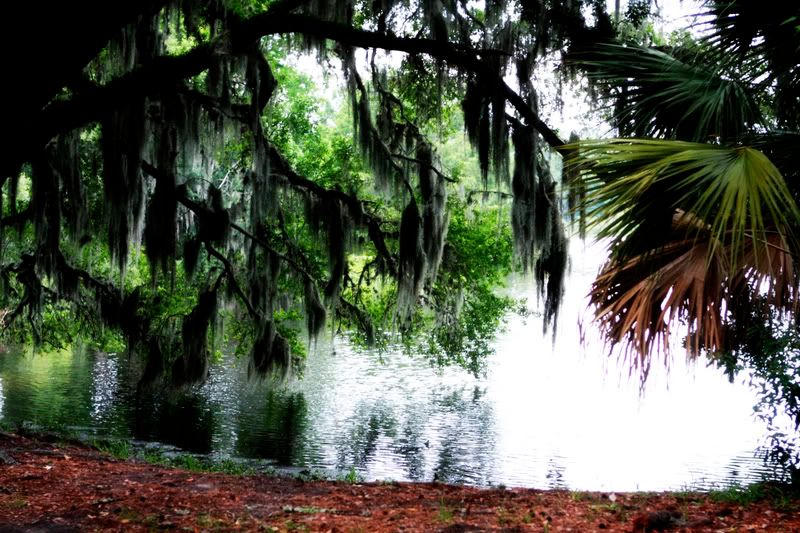 2. The daily thunder storms with the added bonus of
warm
torrential down pours. You can count on it, every afternoon in the summer, like clockwork.
3. The warm and gentle Atlantic ocean with gorgeous white sand beaches.
4. The decibel of nocturnal activity. Don't those creatures know we're trying to sleep here???
5. Dense forests and lush, thick greenery. The Cypress trees and their
knees
are my personal favorite. Natural springs bubble up all over the state. The landscape is just incredibly beautiful.
My five least favorite things about Florida...
1. Grass that looks and feels like little green sticks. It's not grass and you can't convince me otherwise.
2. How I feel like I need a cold shower all day starting immediately after I get out of a cold shower.
3. The way my hair doubles in size. Literally. I'm not exaggerating. I feel like I'm carrying around a bouffant on top of my head straight out the the 50's. The culprit being of course, the humidity.
4. Being called Ma'am. Not my favorite, even if it is considered polite.
5. Saying goodbye.
We had such a great time during our 9 glorious days of vacation. I really didn't want to leave. None of us did. We would have liked to stay indefinitely...maybe someday...
Even with that in mind, we are so happy to be home. I have hundreds of pictures to go through so I'll be posting pictures from this trip for weeks to come. I have lots of stories to share and thoughts to express. Give me some time, I'll pull it all together.
Thursday, June 12, 2008
It's All In The Details
For our anniversary a couple of months ago, Steven gave me a gift certificate for a mani pedi. I saved it because I knew we were going to sunny Florida and the need to have cutesy nails would be of the upmost importance. So after a busy day of running a million errands and doing last minute preparations for our trip tomorrow morning, I treated myself to a very relaxing hour of pampering. In my mind, very very few things compare to the pleasure obtained from a foot and hand massage. Ahhhhh, heaven.
These flowers were an added bonus...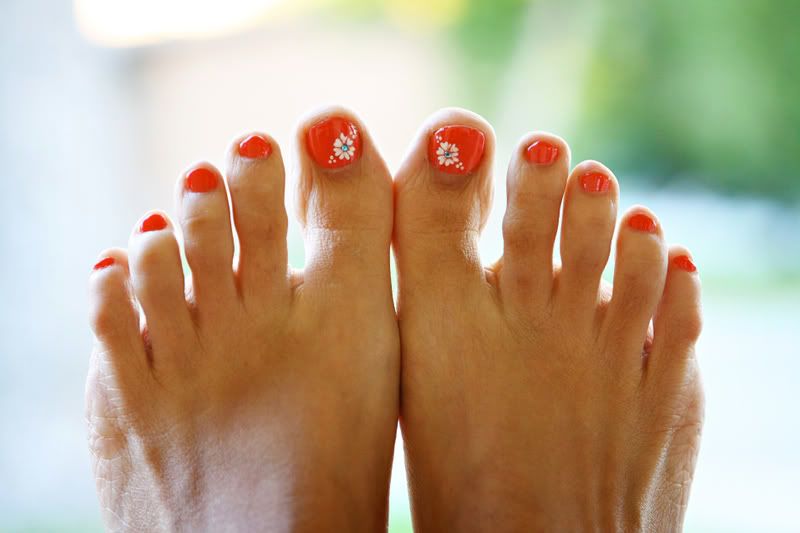 Sunday, June 8, 2008
Twirling...
...is exactly how my mind feels right now. My head is spinning with all of the millions of things I have to do this week. Our family is going to Florida to visit Steven's family on Friday and I have so much to get done before then. I am
so excited
to get outta here! It's been 2 years since our last big family vacation and 3 1/2 years since we were in Florida last. We are long overdue! Get ready for pictures from the beach and amusement parks galore!!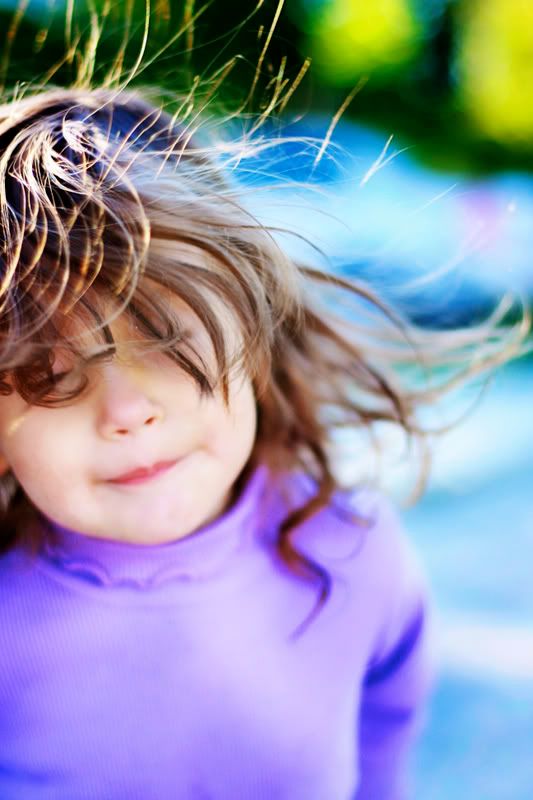 Wednesday, June 4, 2008
Father & Son Camp Out
This past weekend Steven took the boys camping up Hobble Creek Canyon. They all had so much fun, up until Steven got a speeding ticket on the way home the next morning, but that's another story. Thanks to Parker Kemp for the great picture!!
Monday, June 2, 2008
Emma and Brinn
Archives
December 2007 January 2008 February 2008 March 2008 April 2008 May 2008 June 2008 July 2008 August 2008 September 2008 October 2008 November 2008 December 2008 January 2009 February 2009 March 2009 April 2009 May 2009 June 2009 July 2009 August 2009 September 2009 October 2009 November 2009 December 2009 January 2010 February 2010 March 2010 April 2010 May 2010 June 2010 July 2010 August 2010 September 2010 October 2010 November 2010 December 2010 January 2011 February 2011 March 2011 April 2011 May 2011 June 2011 July 2011 August 2011 September 2011 October 2011 November 2011 December 2011 January 2012 February 2012
Subscribe to Posts [Atom]