Peace and Pandemonium
Wednesday, February 27, 2008
Wish Us Luck
Today Steven and I are going on a trip...alone! We have planned to spend a couple days in St. George and then to take a day trip to Vegas. It feels so strange to leave our three children behind. We've never done that before. I have gone back and forth about a hundred times, should we go or should we stay? Should we take the kids with us or just cut the strings and take the plunge without them. The thing that's making this decision even harder is that my kids have been sick for a week now. Matias and Sophia both got a pretty bad cold last Thursday and then to add to it Matias got an ear infection. Isaiah wound up with pink eye and our cat Gus got in a fight a week ago and had an abscess on his paw. I've taken every one of these kids (and cat) to the doctor in the past 6 days and now I'm leaving them all behind. Three of the four kiddies (or kitty) are currently taking medication. Thankfully everyone is on the up and up, but still...

On one hand I feel like if I don't take this opportunity to get away for a couple of days I'm going to go crazy! I don't know how much more whining and complaining I can take before I crack. Steven works so hard and vacations are few and far between. I think we would both be really sad if our plans fell through. On the other hand I don't want to leave my little sick babies behind while I go off and party for a few days. It makes me feel neglectful and guilty.

The silver lining is that my sister Ashley has kindly agreed to take care of our kids for us and I completely and totally trust her take amazing care of them. She is very responsible and loves them almost as much as I do. This is a comfort to me right now and it's the only reason that we are still going through with this. I know my kids will be in good hands. I'm excited and scared at the same time. I guess that's how most mothers feel when they loosen their grip a little. I know that this trip will be good for me. Steven and I have been needing this for a while!! I'm excited to get away. The warmer weather is calling my name!! Loudly.

Sunday, February 24, 2008
Isaiah's VIP day
This past week, Isaiah was the VIP in his 1st grade class. Our family was invited to go to his classroom for the last half hour of school on Friday for his family presentation. We enjoyed helping the spotlight shine a little brighter.
The first thing the class did when we arrived was to sing Isaiah the VIP song. Then the time was ours. We started by showing a poster that was covered with pictures showing some of Isaiah's favorite memories. Next, Steven read from one of Isaiah's favorite books about amazing animals. Finally, Isaiah showed off his own amazing animal, Slytherin. Isaiah loved sharing his snake with his class, and
most
of his classmates loved seeing and petting him.
I also just want to add that I haven't had access to my camera recently and that is why I've been making movies...it's a novelty that may or may not wear off soon. Until then, you get the cinematic version of our lives...
: )
Tuesday, February 19, 2008
Digging Out The Car
A few of you have asked me and I said I would keep you posted on the situation with my car. In all, it was suck up at Sundance for 7 days! I know, ridiculous. Finally on the morning of the seventh day the sheriff called me and very, very nicely told me that Sundance was sick and tired of having our car sitting on their property. (Understandably) She told me that it needed to be moved that day. Thankfully I had already arranged for its removal and the process was in motion. The locksmith made the key and left it up at Sundance for me to pick up. I got up there at around 3:30 but when I tried to start the car it wasn't turning over. After attempting a jump which was unsuccessful and making my mom (who was with me) extremely late for work, I let her take my car to work and my brother Christian, my kids and I waited for the locksmith to come back up and get my car going again. While we waited, the boys tried to dig our car out from the mountain of snow it was sitting under. This movie cracks me up.




What ended up happening was that the computer in my car kept dropping the code programmed into the key. It happened twice once at Sundance and again when I got my car home. Finally today the locksmith came back again for the third and hopefully final time to program my key, this time with an official Nissan key. Apparently my car is a snob because generic keys just wont cut it.

Monday, February 18, 2008
My First Movie
I recently got a new Mac computer! I'm so excited because I have been wanting to make movies for a while and now I finally can. I don't have much footage yet but my intention is to create cute little home movies of my kids and the funny things they do. I'm teaching myself how to make these movies and it has been quite the headache getting this first one made and I do mean that literally. However, now that I have fumbled my way through this first project, I hope that the projects to come will be easier and quicker.
This is footage from my ski day. It was my last run of the day and it was so beautiful that I pulled out my camera and shot some video of my ride down. This will hopefully provide some enjoyment for those of you who will not get the opportunity to go skiing this year. You can now live vicariously through me! This movie is set to music so if you've got speakers turn 'em up and enjoy!!
Thursday, February 14, 2008
A Love Letter
Ski....Key?
I had an interesting day on the mountain on Monday. Wendy and I decided that we were going to Sundance for a ski day. It was the most beautiful day. Sunny and warm and absolutely gorgeous. The snow was soft and we had so much fun. We stayed on the back mountain for most of the day and managed to get a lot of runs in. We were very efficient skiers.
Right around noon I got hungry so I ate it!! Unfortunately I'm not talking about food. I caught an edge and tumbled down Bishops Bowl for what seemed like 10 minutes. I couldn't stop myself so I just went limp and flailed down the hill. Thankfully the only thing that was bruised was my ego and my behind. In thinking back, that may have been where my problems really started but I'll get to that in a second. After a couple of hours, Wendy had to go but I wasn't quite ready yet. I stayed and skied solo for the rest of the day. Around 3:30 I started to get tired so I skied to the base and caught the shuttle up to my car. This is when I realized that I didn't have my keys. My pockets were stuffed with all kinds of stuff and I was in and out of them all day pulling out my camera and my phone and a plethora of other items. Apparently, at some point my keys fell out of my pocket (I blame my tumble down Bishops Bowl). With the storm last night, they are now probably covered by an additional foot of fresh snow. I have learned, although I still don't believe, that I now have to have my car towed to the dealership so that they can make the key. I guess they can't program my key unless the car is physically there, which I think is total crap, but that's what they tell me. I'm still trying to figure out a way to get my car out of the overflow parking at Sundance (Yes, it's still up there 3 days later) and back into my life without spending a small fortune in the process. The key alone is $110 and I don't even want to estimate how much it's gonna cost a tow truck to go clear up there. Bah! I think I'm going to wait for the roads to get nice and plowed and then hopefully get a friend to help me tow it out of there. I'll keep you posted!
Despite all of that drama, the day was probably one of the funnest ski days I've had in a long while. Of course I can count on one hand the amount of times I've been able to go in the past couple of years but still. I had a blast! Wendy and I are going to go again soon so if any of you want to sneak away for a couple of hours and hit the slopes, let me know. I might have to hitch a ride with you though. I don't know if I trust myself to keep track of my keys anymore.
Tuesday, February 12, 2008
Double Trouble
Last night when I was snapping pictures of Gus, Matias got up (out of his bed where he was supposed to be sleeping) and wanted in on the action. He started playing with Gus and posing for pictures.
These two have an interesting relationship. As I said in my previous blog, Gus is extremely gentle and slow to react. Except when it comes to Matias. These two play rough. I think they see each other as equals and therefore they play and defend themselves accordingly. I have to watch them both carefully while they play together so that they don't hurt each other.
Then there are times when they are cuddled up together, both peaceful and content. Those are precious moments. This is the nature of their relationship and it is very sweet.
Gussy Gus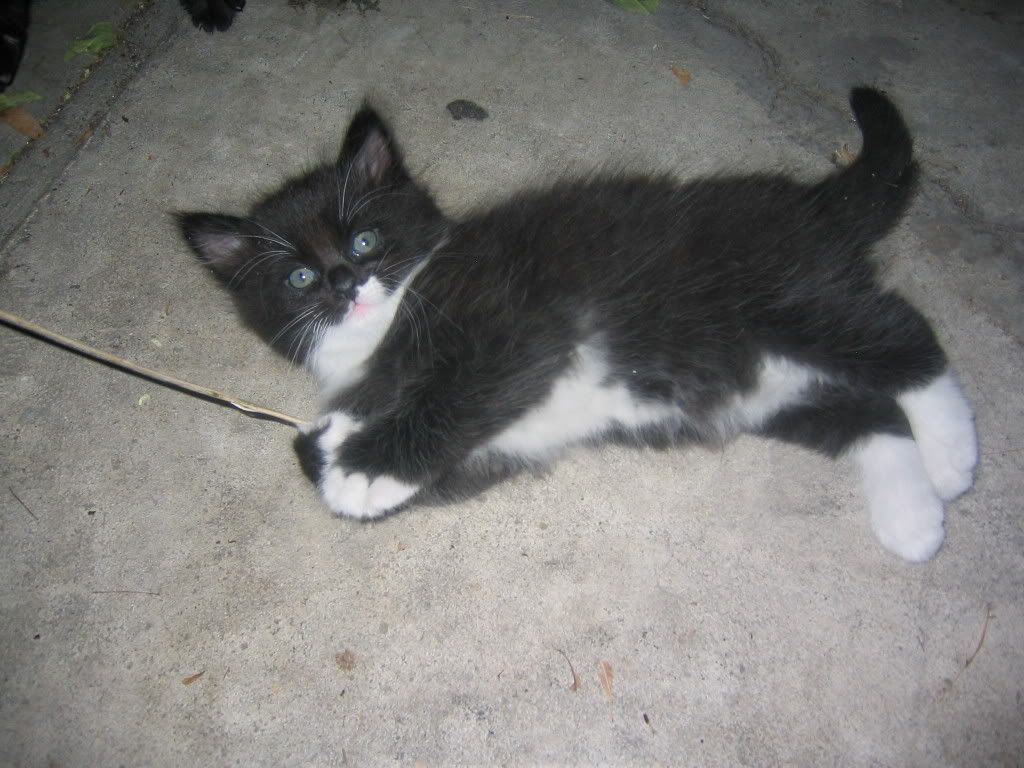 Meet Gus. Isn't he cute?! Sophia got Gus when she turned two and we have enjoyed this kitty ever since. He is the most "human like" animal I have ever known. He is affectionate and needy, he is just like one of my kids! He purrs continuously, seriously, I've never had a cat who purred as much as Gus. I sometimes call him the "make-out kitty" because he has a thing with licking. If you put your finger near his mouth he will lick you...almost like a dog. Ever since he was baby he would lick me. My hands, my face, even my ears. He still does, but he has learned that licking my ears is not acceptable!! It freaks me out. : ) He is very gentle and willing to let my kids drag him around without ever protesting. I love having a cat that is as smart as a dog but independent enough that I hardly ever need to worry about him. He's such an awesome cat! We love our Gus Gus!
Gus was working the camera! He kept rolling all over the floor striking a pose.
How he managed this pose, I'll never know.
Sunday, February 10, 2008
A few more...
Saturday, February 9, 2008
Bohemian Baby
Sophia is becoming more and more interested in getting dressed all by herself. It is thoroughly enjoyable to watch her express her personal style. She has a few key pieces in her wardrobe that are staples...obviously the beret and the tutu's are some of her favorite items. She is my sweet little bohemian baby and I absolutely adore her!
As far as the photo shop goes. I am just learning. My mom has promised to teach me all she knows. I created the first two, the last two were created by Claire Noire.
Tuesday, February 5, 2008
The Lap of Luxury
Last night Steven and I had the rare treat of going on a date together. Steven's brother Greg watched our kids for us and we headed up to SLC for the Jazz game. I'm not big on sports but I do have a special place in my heart for the Jazz, especially during the playoffs! Every year Steven gets tickets to a game and the best part is that these tickets are for the luxury suites! I always feel like a VIP when we go to these games. There is food and drinks and treats galore and we have the best view of the game. Soft, cushioned chairs and an intimate setting, make me feel like the luxury suites are the only way to watch a game. It was a really fun night and to top it off, the Jazz won!
Monday, February 4, 2008
Read this book with me...
I was watching The Oprah Show the other day and the author of her most recent book club selection was on to talk about his novel. I was intrigued when I heard details of the subject matter and since I'm always looking for a good book to read, I went to Borders on Saturday and bought it. It's called
The Pillars of the Earth
by Ken Follet.
I'm sure you've probably heard of this book by now. Anytime Oprah announces a book it instantly becomes a hit. I've actually read some of her previous selections in the past but I am kind of hard to please when it comes to a novel. I have to be sucked into the story immediately if I am going to keep reading it. Most books don't have this effect on me which is why I'm always searching, but this book did! I started reading it yesterday and at one point I was sitting in the living room reading while Steven and his brother Greg were watching the Super Bowl. (I was so into the story that it didn't matter that the TV was on, I was not distracted in the least bit.) The story was getting so incredibly intense and I couldn't help but blurt out the occasional "oh my gosh!!" or "no way!!" along with repetitive gasps. This of course peaked Stevens interest into what I was reading and when I started to explain what was happening in the story, I STARTED TO CRY!! I couldn't hold back the tears. I was only 75 pages into this book before I was overflowing with emotion for the characters. I'm not going to give anything away but let me just say, you do not want to miss this book. It's very long, nearly 1000 pages, which is kind of daunting but it's an easy read and the story is so interesting that you'll probably fly through it like I have so far.
Instead of trying to describe a book that I've only just started I'm going to quote Publishers Weekly...
"A historical novel of gripping readability, authentic atmosphere, and memorable characterization. Beginning with a mystery that casts its shadow, the narrative is a seesaw of tension, suspense, impeccable pacing...action, intrigue, violence, passion, greed, bravery, dedication, revenge, and love. A novel that entertains, instructs, and satisfies on a grand scale."
Yeah that pretty much sums it up. Go out and buy this book now and start reading it so that I will have someone to talk to about it!!
***
A word of warning. As I have read further into this book I have discovered that it is extremely graphic at times and discribes in detail some pretty horrifying things. This book is set in the dark ages and these people were pretty hideous. The story is facscinating and compelling but some of the details are disgusting. If you are sensitive or maybe are someone who chooses not to watch rated R movies, consider yourself warned. This may not be the book for you.
***
Saturday, February 2, 2008
Gordon B. Hinkley
1910 - 2008
Today the prophet was laid to rest.

I really did love this man. How could you not? He was such an incredible person. His conviction inspired me and every time I heard him speak I was able to retain a part of his enormous faith and keep it as my own. A gift that he gave to many, I would suppose. He inspired millions and truly led by his unwaivering example. It makes me happy to know that he has been reunited with his wife and that he is joyous! Despite all of this, I find myself filled with emotion over this loss. I feel sadness when I think of how we wont hear him speak again and the loss of such an amazing man.

Thank you President Hinkley for living such a beautiful life and for inspiring me to be a better person. I am filled with deep appreciation and gratitude for your service and your dedication to this church. I will miss you.



God be with you till we meet again,
By His counsels guide, uphold you,
With His sheep securely fold you,
God be with you till we meet again.

Till we meet, till we meet,
Till we meet at Jesus' feet;
Till we meet, till we meet,
God be with you till we meet again.

God be with you till we meet again,
Neath His wings securely hide you,
Daily manna still provide you,
God be with you till we meet again.

God be with you till we meet again,
When life's perils thick confound you,
Put His arms unfailing round you,
God be with you till we meet again.

God be with you till we meet again,
Keep love's banner floating o'er you,
Smite death's threat'ning wave before you,
God be with you till we meet again.

Archives
December 2007 January 2008 February 2008 March 2008 April 2008 May 2008 June 2008 July 2008 August 2008 September 2008 October 2008 November 2008 December 2008 January 2009 February 2009 March 2009 April 2009 May 2009 June 2009 July 2009 August 2009 September 2009 October 2009 November 2009 December 2009 January 2010 February 2010 March 2010 April 2010 May 2010 June 2010 July 2010 August 2010 September 2010 October 2010 November 2010 December 2010 January 2011 February 2011 March 2011 April 2011 May 2011 June 2011 July 2011 August 2011 September 2011 October 2011 November 2011 December 2011 January 2012 February 2012
Subscribe to Posts [Atom]