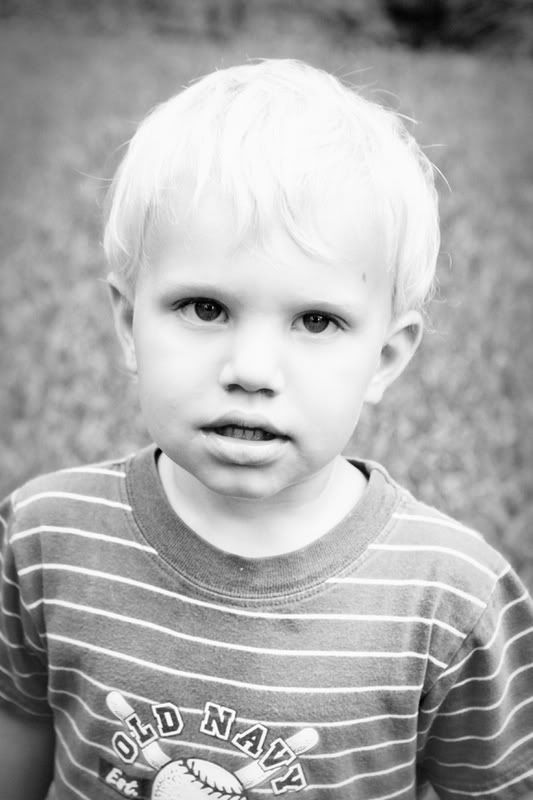 A few of you already know, but for most of you this will be news. Unfortunately it's not the kind of news you would ever want to hear. If you don't want to read, I understand. I hardly want to type it.
Steven's older brother Jim and his sweet wife Angela lost their youngest son Evan in a drowning accident on Sunday night. He wasn't 2 yet. I am completely torn apart about it. It took a couple of days to sink in. Now that it has, I am so sad. I'm devastated for Jim and Angela and for their three surviving children Danielle, Kailey, and Cameron. This truly is EVERY mothers worst nightmare. It's one of the fears I have that I am afraid to even speak of, yet now, here I am, blogging about it. I wasn't sure if my blog would be the right place to put something so deeply personal but I was assured that this post would be well received. I hope that writing my feelings about it will help me heal. I also hope that Jim and Angela will find some comfort here.
Our family had the opportunity to meet Evan for the first time this summer during our family reunion. His sheer size astounded me. He towered over Sophia and she is almost 3. He was not only big physically but also brimming over with personality, life, and spirit. It was hard not to be entertained by Evan. He was an enormous source of joy, not only to his parents and his siblings but also to all of his extended family. He is and will always be an absolute precious part of our family. I will really miss him. I can only imagine how his parents will manage.
The funeral services for little Evan were this morning. Steven told me that it was very sad but that the whole family is being lifted up by the spirit. If you want to read the news article I have linked it
here
. The obituary was beautifully written. If you would like to read it I've linked it
here
.
As I have been thinking about this the past couple of days the idea of joy and sorrow has been on my mind. Having children is a risky thing. There, I said it. It's a risk. The amount of love, hopes, and happiness you feel for your child cannot be mirrored by anything in the whole world except for maybe the pain and devastation you would feel if you were to lose that child. We are each given the incredible gift of creating life. We as women get the glorious opportunity to feel that child move and grow within our womb. We labor hard to deliver this new life into our physical plane. The discomfort during pregnancy and the pain of labor and delivery hurts a lot but quickly becomes a distant memory once we have been given the very best gift life has to offer. That glorious gift of new life!! A baby more precious than all of the riches this life could possibly offer. We are immediately so deeply invested in this new baby. It seems almost instantly that our life could never be the same without. That is how quickly and how deep the bonds form. It is a beautiful thing. The joy experienced here knows no limits. This is the blessing of motherhood. Angela, this is a blessing that is yours to keep for all of eternity.
One of my favorite books is called
The Prophet
by Kahlil Gibran. It is one of the most insightful and meaningful books I have ever read. One of the chapters is called Joy and Sorrow. He is much more eloquent than I could ever be so I will let him sum up my feelings on the subject.
Then a woman said, "Speak to us of Joy and Sorrow."
And he answered:
Your joy is your sorrow unmasked.
And the selfsame well from which your laughter rises was oftentimes filled with your tears.
And how else can it be?
The deeper that sorrow carves into your being, the more joy you can contain.
Is not the cup that hold your wine the very cup that was burned in the potter's oven?

And is not the lute that soothes your spirit, the very wood that was hollowed with knives?
When you are joyous, look deep into your heart and you shall find it is only that which has given you sorrow that is giving you joy.

When you are sorrowful look again in your heart, and you shall see that in truth you are weeping for that which has been your delight.

Some of you say, "Joy is greater than sorrow," and others say, "Nay, sorrow is the greater."
But I say unto you, they are inseparable.
Together they come, and when one sits alone with you at your board, remember that the other is asleep upon your bed.
Verily you are suspended like scales between your sorrow and your joy.
Only when you are empty are you at standstill and balanced.
When the treasure-keeper lifts you to weigh his gold and his silver, needs must your joy or your sorrow rise or fall.
I am so grateful for the blessings of the temple and for the plan of salvation. I know that this may be the only thing keeping Jim and Angela afloat right now. If any of you would like more information about how
families can be together forever
, please follow the link.
These are pictures I took of my beautiful nieces and sweetest nephews while we were in Florida this past June. I love these kids
so much
and I hope that you will remember them in your prayers tonight. This whole thing has been so hard on each of them and I know your prayers will lift them up.
Danielle
Kailey
Cameron